WATCH: Lewis Hamilton Officially Gifts His Turkish GP Pole Position Trophy to Bottas
Published 10/10/2021, 6:11 AM EDT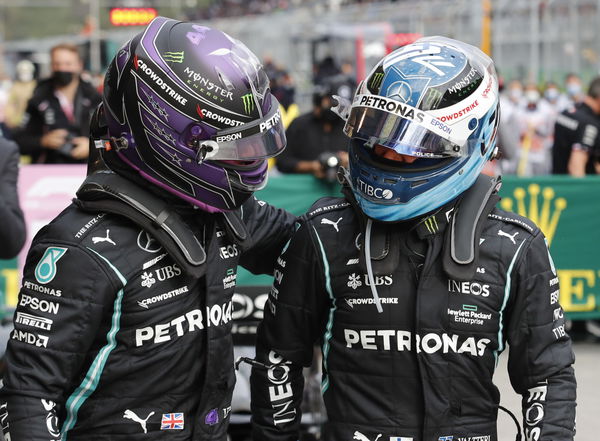 ---
---
Valtteri Bottas and Lewis Hamilton had discussed the real winner of the pole on Saturday. Although Lewis secured pole with the fastest lap, he will start Sunday's race from P11. As a result, Bottas will sit on pole instead of his teammate. Regarding a conversation made in the press conference after the session, Hamilton gifted Bottas his trophy.
ADVERTISEMENT
Article continues below this ad
Lewis found out that the pole wouldn't be recorded and he had simply received the Pirelli trophy for his fastest lap. At the moment, Bottas said this means that Lewis should give him his tire for taking pole position. While Lewis joked about giving it to Bottas, it turns out he was serious!
ADVERTISEMENT
Article continues below this ad
Hamilton gave Bottas his signed trophy and even added a message to him. "To Valtteri: Enjoy my pole trophy! Nice lap tho! 102"; the 102 standing for what would've been Lewis' 102nd pole start.
After collecting over a hundred pole tires in his career, Bottas had joked that the champion would have a few to spare. Hamilton had replied that he didn't know where they kept his pole tires, but he took the time to make sure it reached Bottas! An endearing move from Hamilton; Bottas was quick to appreciate his gratitude for the unofficial pole trophy.
Lewis Hamilton and Valtteri Bottas' races on Sunday
Despite the jokes and the off-track companionship, all will be forgotten when the driver shit the tarmac. As Bottas leads the race, Hamilton will have in drivers to get through before challenging his teammate.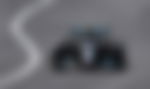 Instead of worrying about Lewis' race and championship, the Finn is fixated on his race and getting away from the threats of the Ferrari and Red Bull cars behind him. "Max is starting next to me and the Ferrari has looked strong this weekend, so it'll be a tough race but we'll give it our all… I just need to keep the focus on my own race, avoid mistakes and stay ahead."
ADVERTISEMENT
Article continues below this ad
He added, "Strategy will always play a part but I'm feeling confident and looking forward to the start and getting the job done."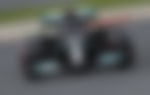 On the other hand, Lewis is uneasy about the traffic ahead of him. A man well-acquainted with the clear view of a race lead, Hamilton has a massive task at hand. "Tomorrow is going to be difficult, but I'll give it everything! Overtaking isn't the easiest at the moment and we're all on the same tire so I imagine tomorrow is going to be difficult to move up."
ADVERTISEMENT
Article continues below this ad
As the countdown begins and the lights go out, as always the first few corners will set the tone for Bottas's lead. For Hamilton, strategy and an incident-free first few laps should do the trick. Regardless, the Turkish GP is sure to have an exciting start.
Watch this story: Lewis Hamilton's Rendezvous in Paris.