WATCH: Lewis Hamilton & Sebastian Vettel Reveal Hilarious Animal Wish in Imola
Published 04/27/2021, 3:11 AM EDT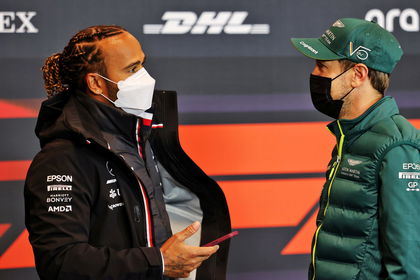 ---
---
Since the start of this season, F1 has been adding a bit of sweetness to each of the race weekend's press conferences. Amid questions from journalists, the drivers now get questions from young F1 fans, and Lewis Hamilton and Sebastian Vettel, too received an interesting question in Imola last weekend.
ADVERTISEMENT
Article continues below this ad
The two world champions were asked to weigh in on the kind of animal they would want to exist as for a day rather than a human. And neither of the drivers failed to give a laughable answer. But it was first the German who stepped in to reveal his preference.
What did Sebastian Vettel say?
ADVERTISEMENT
Article continues below this ad
During the interview, Vettel opined that he would love to endure a day as a bird, flying around at great heights, enjoying the view.
"We spoke about dogs earlier," he said. "I think It would be nice to be a dog for a day.
"Depends if your 'keepers' or whatever your family takes you for walks and does fun stuff with you or not.
"I guess you can be lucky. But I think I would prefer rather than be a dog for a day, I would prefer to be a bird, fly around. I think that would be quite cool."
Imola turned out to be the first Grand Prix weekend since 2020 to witness a mix-up in the driver's line-up for the press conference. Instead of a team-based line-up, F1 decided to jumble the drivers amongst each other. Ultimately, Hamilton and Vettel ended up on the same set.
Lewis Hamilton reveals an unexpected answer
The seven-time world champion decided to follow the footsteps of his former rival in giving out the answer but opted to make minor tweaks to it.
While Hamilton revealed that he would also wish to be a bird, he added spice to it by preferring to be a Pterodactyl, the flying dinosaur.
"I'm just trying to think of the name, I don't even know if it's the right name," he said. "Is it Pterodactyl or something like that? Is that the flying dinosaur?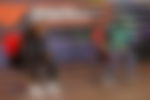 "Oh yeah, that's the one I wanna be. I wanna go back to the dinosaur era.
ADVERTISEMENT
Article continues below this ad
"Or a T-Rex. My hands would be too small," Hamilton laughingly said.
In the end, the press conference mix-up turned out to be worth the shot as the responses were immensely interesting from the fans. So, will F1 consider the positive feedbacks and opts to host more of such interviews in the future? Well, only time will tell.
ADVERTISEMENT
Article continues below this ad