WATCH: Max Verstappen and Lando Norris Collide Yet Again During an eRace
Published 03/24/2020, 7:29 AM EDT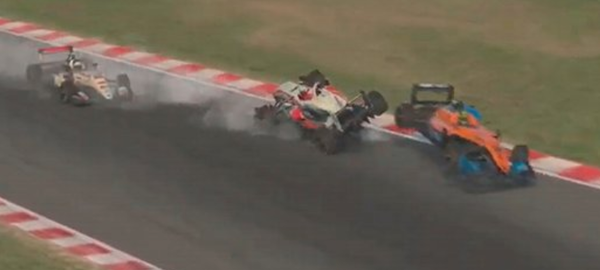 Formula 1 stars Max Verstappen and Lando Norris are quite fond of video games and sim racing. Sometimes, they can be a little over-competitive and lines are crossed. During the opening round of Team Redline's sim racing series, the duo collided with each other.
ADVERTISEMENT
Article continues below this ad
Recently, the sim racing giants launched the series, Real Racers Never Quit. This initiative unites over 40 professional racing drivers squaring off against each other. Aside from Verstappen and Norris, other racers include two-time Indy500 winner and former F1 driver Juan Pablo Montoya.
Round 1 kicked off with drivers piloting European Formula 3 cars on iRacing around the virtual Spa circuit across two 10-lap races. Needless to say, Verstappen dominated the opening race after snatching the lead from third on the grid.
ADVERTISEMENT
Article continues below this ad
However, he did not have it easy, especially with Formula Renault Eurocup race winner Lorenzo Colombo on his tail. Colombo stayed within a second of Verstappen for most of the race but the Dutchman kept him at bay.
What happened between Max Verstappen and Lando Norris
During race 2, Norris lined up second on the grid bang opposite Verstappen. Once the light turned green, the duo enjoyed a race-long battle and swapped the lead several times.
ADVERTISEMENT
Article continues below this ad
On the penultimate lap, 2019 ADAC GT Masters champion Kelvin van der Linde made it a three-way fight. Verstappen attempted an audacious move around the outside of Norris and ran wide on the exit and spun.
Unfortunately, Norris had nowhere to go and the rotating car clipped him, while van der Linde escaped unscathed. The South African rabbited off to take the race lead and win.
The good news is that the two F1 drivers re-joined the circuit, still in the top five. Sadly, Verstappen bumped into BMW factory driver Nicky Catsburg at the final chicane on the final lap.
ADVERTISEMENT
Article continues below this ad
Norris took it as an invitation and was not about to say no. The Briton overtook and snagged fourth place behind BMW DTM driver Philipp Eng and ex-Euro F3 driver Mikkel Jensen in second and third respectively.
Verstappen finished fifth ahead of Formula E race winner Antonio Felix da Costa and 2012 DTM champion Bruno Spengler.