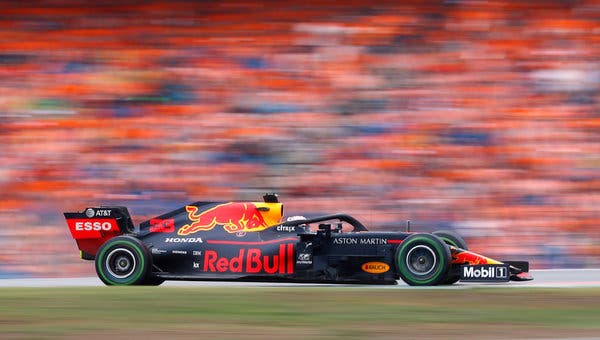 Max Verstappen found himself facing the wrong way following a spin during winter testing. The incident occurred during the early stages of the afternoon session of winter testing on day 1.
Max Verstappen spins his RB16
The Dutchman lost control of his RB16 at the exit of turn 13 and ended up potentially ruining his tyres. Verstappen was a bit too greedy on the left-hand curb in an attempt to get a better entry into the succeeding corner. This led to the Dutchman dropping the left wheels on the gravel, causing the spin.
😮Max Verstappen spin attı! #MaxVerstappen #redbull #F1Testleri #F1Testing pic.twitter.com/DDywX3yl3b

— Krampon F1 (@KramponF1) February 19, 2020
Luckily, Verstappen's incredible car control came in handy and he was able to prevent further damage. The Dutchman then proceeded towards the pits, possible to check for minor damage or flat spots to this tyres.
Another minor incident which occurred involved Kevin Magnussen, who also nearly lost the car in an awkward spin. The Dane was able to keep the car under control during his off-track excursion at turn 9.
A small diversion for K-Mag this morning#F1Testing #F1 pic.twitter.com/q5ivgSV65n

— Formula 1 (@F1) February 19, 2020
So far, testing has been uneventful and for good reason. Drivers need to be extra careful this year, due to the newer regulations in testing. Testing has been reduced from 8 days to 6, hence drivers have to make their track time count. Additionally, mid-season testing has been removed entirely for 2020.
the story so far
The morning session ended with Valtteri Bottas heading the pack for Mercedes. The Finn set a lap time of 1:17.313 and was closely followed by Sergio Perez and Max Verstappen. But as we know, in testing, timing doesn't really reveal anything. Drivers are usually on different compounds attempting varying goals and tests for the team.
Red Bull are looking strong as the Dutchman has completed 100 laps for the team. Valtteri Bottas and George Russel for Williams followed suit, with 70 something laps each. Williams was looking particularly feisty during the early part of testing and were setting some rapid lap times.
"Red Bull have had the best morning, Verstappen has clocked the most laps – 91 is huge. that's almost non-stop and on the medium tyre too which accounts for the pace differential.", said Jolyon Palmer, speaking to F1.
"As for Mercedes, tough to read, they look under control but no one is showing true pace as of yet. They are quick in Sector Three, which is always important here."
It will be interesting to see who ends day 1 on top. As of now, Red Bull leads the pack, with their rivals close behind.