WATCH: McLaren F1 Boss Teases Daniel Ricciardo's Bet Amidst Podium Hype at Monza
Published 09/12/2021, 3:43 AM EDT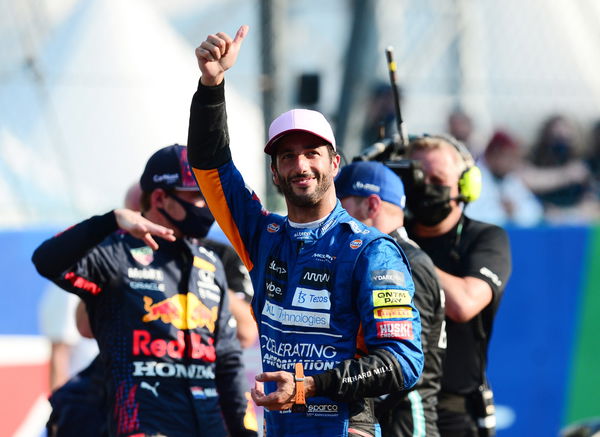 ---
---
It is no secret that Daniel Ricciardo is a die-hard fan of the NASCAR racing legend, Dale Earnhardt. The Australian grew up watching the late American race in the attractive Blue-Yellow Chevrolet, sporting the number 3.
ADVERTISEMENT
Article continues below this ad
Ahead of the 2021 F1 season, McLaren F1 boss, Zak Brown, even gifted the Australian, a miniature No. 3 Wrangler car. However, soon enough, to up the ante, Brown had claimed that he was ready to gift Ricciardo the actual car if he manages to secure a podium in his first McLaren stint.
ADVERTISEMENT
Article continues below this ad
Well, 6 months and 13 race weekends later, it looks like the Honey Badger could finally win the bet against his boss.
Brown teases the Daniel Ricciardo bet on social media
The ongoing Italian Grand Prix could well be Ricciardo's biggest possible chance to score a podium for the British outfit. With Valtteri Bottas starting from the back of the grid, and Lewis Hamilton stuck in the second row, all Ricciardo needs is a perfect getaway at lights out and the rest will shape up accordingly.
Hence, amidst such bright prospects looming around, Brown has already started teasing the bet. The American took to Twitter to reveal a video of the 1984 Wrangler being warmed up.
Brown further added a message for Ricciardo. "Remember our podium bet, Daniel Ricciardo? Just warming it up for you," he wrote.
Can Ricciardo claim his first podium for Mclaren at Monza?
The good news for Ricciardo is that his only threat could be arriving from Hamilton, who certainly owns a much better car in hand. And unlike sprint, it doesn't seem likely enough that either of the McLaren drivers would be able to defend against the 7-time world champion.
ADVERTISEMENT
Article continues below this ad
Hence, if Ricciardo does get a good start and still gets superseded by Hamilton, the Australian would still be able to see the checkered flag in P3. Therefore, all eyes will be on how well Ricciardo manages to pull away at lights out.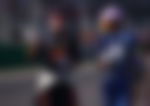 Of course, there are minor possibilities that Perez and Bottas could be a threat to Ricciardo during the latter part of the race. But, it will entirely depend on they managed to fight through the field.
ADVERTISEMENT
Article continues below this ad
So, a podium for Ricciardo does seem practical enough at Monza this weekend. But, let's wait and watch what the reality has in store for the Australian.
Watch Story: Biggest Crashes From 2020 Featuring Leclerc, Vettel & Grosjean