WATCH: Mercedes Blast FIA for Causing Irreversible Damage to Valtteri Bottas' F1 Car
Published 06/18/2021, 6:45 AM EDT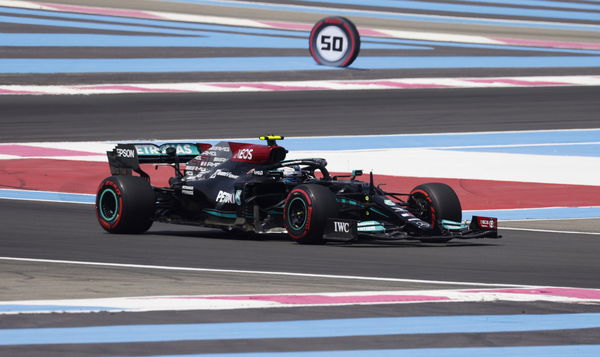 ---
---
The reigning world champions, Mercedes, haven't enjoyed a fairy tale start to the weekend in France, as one of their drivers suffered a massive blow during the first practice session.
ADVERTISEMENT
Article continues below this ad
With minutes left on the clock in FP1, Valtteri Bottas ran wide into Turn 2 during one of his runs. Running wide isn't something that's unusual for an F1 car.
So, why would that cause such hassle? Well, the twist is that, ahead of this weekend, F1 decided to install massive sausage kerbs around the exit of that turn.
ADVERTISEMENT
Article continues below this ad
Hence, while exiting the turn, Bottas ran his car over the pointy kerbs, which has apparently caused a significant amount of damage to the floor, according to the team.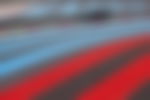 As expected, Mercedes weren't pleased with the existence of the kerbs, as they reported the issue to FIA through radio.
They reckoned that Bottas' car is dealt with "hundreds and thousands" of damage by running over a kerb. What's more, this leaves the crew with a lot of work to do before F1 flags off the second practice session.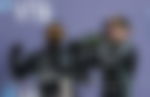 The radio conversation between FIA and Mercedes
Ron Meadows, Sporting Director at Mercedes, demanded that FIA take necessary action to avoid such incidents in the future.
"Those yellow rumble strips on the exit of turn two have done an awful lot of damage to our car. They're just too aggressive," he told Masi, the Race Director.
"All I'm telling you is our car's rooted because he went on with it. We can't say that well you shouldn't go there cause that's tens or hundreds or thousands of pounds of damage by going three foot two wide."
Although FIA denied it was "a lot more than 3 feet", they acknowledged taking a look at the kerb following the end of FP1.
ADVERTISEMENT
Article continues below this ad
One of the reasons for this incident could be the tricky weather at Le Castellet. Conditions have been quite windy which may have triggered the Mercedes driver to run wide off the track. However, the gusty winds will most likely slow down as F1 marches into Saturday and Sunday.
This is undeniably a bitter-sweet start to the weekend for Bottas, who is already enduring a tough 2021 season. Of course, Bottas topped the sheet over the session, ahead of his teammate, Lewis Hamilton.
But having missed out on crucial minutes in FP1, the Finn might potentially have a lot of catching up to do over FP2 and FP3. So could the French Grand Prix shape up to be yet another disappointing outing for Bottas?
ADVERTISEMENT
Article continues below this ad
Watch Story: Biggest Crashes From 2020 Featuring Leclerc, Vettel & Grosjean