WATCH: Mercedes' Toto Wolff, Lewis Hamilton and Valtteri Bottas Answer Some Quirky Personal Questions
Published 09/20/2020, 12:25 PM EDT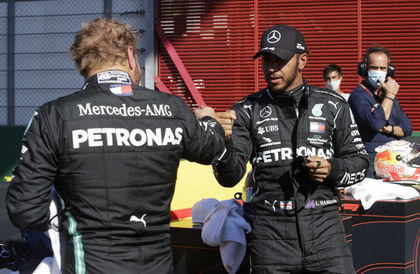 ---
---
Mercedes AMG F1 is always more active than the other teams on social media. During non-race weekends, it is evident that their handle tries to keep its fans engaged with some off-track content.
ADVERTISEMENT
Article continues below this ad
The Mercedes' social media handle posted a video called "Speed Dating". In the video, both the drivers and the Team Principal bared their personal lives to the viewers.
The three of them were asked to describe themselves as a teenager in three words. "Not very good in school, not very good in sports, not very attractive with the girls," said Toto. While Lewis' reply was "Daredevil, thrill-seeker, troublemaker". Finally, the Finn said "rebel, wild and motivated".
ADVERTISEMENT
Article continues below this ad
When asked what superpower would the three prefer, all of them had a series of interesting answers. Bottas went with "Teleporting". "Predicting the future," said Toto Wolff, and Lewis preferred "Time Travel".
But when questioned about the weirdest gift they have received, Toto took the cake with his hilarious response. "Shove and Bono leaving a painting with Lewis' naked back in my office and as per rumors, they left my office giggling a lot," said the Austrian.
Lewis Hamilton, too, gave an amusing reply saying "Japanese Men's Underwear".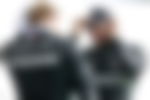 The next question was which decade or era would the three choose to drive in apart from the current decade. While Valtteri Bottas went with the 90s, Lewis and Toto went with the 80s and 70s, respectively.
When asked about their pet peeves, Toto said "People lying". Lewis chose "bad breath" and Bottas went with "being lazy".
For the question "Favourite Movie," Lewis gave three namely, Scarface, Coming to America, and Cool Runnings. Bottas opted for "The Wolf of Wall Street" and finally Toto went with an all-time classic, "The Godfather".
The next question was what the three would do first thing after waking up. Lewis gave a laughable reply by saying, "Well turn the alarm off and go back to sleep."
For a favorite dish, Bottas preferred "Tacos", Toto went with "Wiener Schnitzel" without giving it a thought while Lewis was still uncertain and chose "curry" in the end.
ADVERTISEMENT
Article continues below this ad
What makes being part of Mercedes special?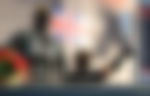 Bottas, Lewis, and Wolff gave a very loyal answer to the question, considering the amount of time they have spent with the team. "Team spirit and how united the team is," said Bottas. Toto too went with a positive response by saying, " The unbelievable opportunity to work with so many amazing people."
ADVERTISEMENT
Article continues below this ad
And Finally, it was Lewis's turn," I mean, being a part of this team, it's not about the winning. It's the journey of wins that we have together."