WATCH: Mercedes Unveil a Spectacular Video Showing the Effort of their Mechanics
Published 09/20/2020, 6:43 AM EDT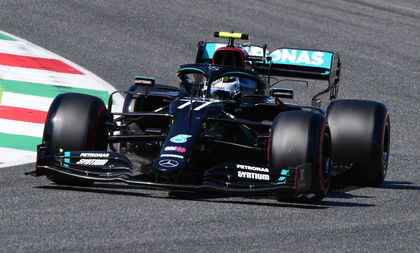 ---
---
Mercedes AMG F1 has been the team to beat this year in Formula 1. The team is on course to take its 7th consecutive Constructors' title this season. Recently, Formula 1 posted a video on social media that shows how the pit crew prepared the W11 for the Qualifying session.
ADVERTISEMENT
Article continues below this ad
The "behind the scenes" from the video were shot between the FP3 and the start of Qualifying at the Hungarian Grand Prix. The video kicks off with Lewis Hamilton doing the final runs during FP3. Lewis then brings his W11 to the garage, citing the end of the FP3 session.
The pit crew take custody of his car and insert wheelie boards under the car. The car is then slowly moved into the garage. During the pushback, mechanics use fans to cool the brakes.
ADVERTISEMENT
Article continues below this ad
Once the car is set in the garage, one of the crew inserts an Umbilical cord to download the data from the car. While another crew places an ECU fan to keep the electronics from heating up when the car is switched on. A couple of mechanics are seen setting the flap angle on the front wing.
Brake ducts are cleaned to make sure that they are free from debris. After the checks, the mechanics spray polish the suspension components and clean the cockpit.
They are later seen removing the damper hatch. Eventually, the support frame is removed to place the car back on the ground again.
Setting the Mercedes W11 back in one piece
After all the cleaning and repairing, mechanics fix the bodywork back on the car. The crew replaces the heave spring unit. The Unit is later set back in the car after removing the shims and adjusting the car's front toe. The front damper hatch is subsequently fixed on the car.
The mechanics, later, bolt the bodyworks on the car. It is speculated that around 150 fixings were bolted. They also tape the bodywork joints to make sure air doesn't pass through the gaps.
ADVERTISEMENT
Article continues below this ad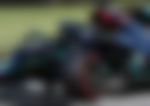 The car is fired up and one of the mechanics goes through all the gears and performs a clutch bite point check. The nose of the car is carried from the back of the garage and is fixed on the car. The main plane and flap angles were checked by setting up Angle jig.
The pit crew does the final job of strapping the driver, in this case, Lewis Hamilton, into the cockpit. Simultaneously, the headrest and steering wheel is fitted.
ADVERTISEMENT
Article continues below this ad
The video ends with the flying laps that Lewis does during that qualifying. He eventually qualifies first beating his teammate, Valtteri Bottas by 0.1 seconds in Budapest.