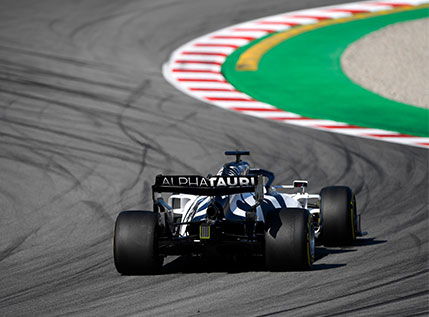 Turn 9 just had its second victim and it was an AlphaTauri facing the wrong way. Pierre Gasly suffered a low-speed spin on the exit of the corner on the second day of winter testing.
Pierre Gasly spins while testing
Gasly's AlphaTauri had aero rakes fitted when the incident occurred. Aero rakes measure airflow to the rear or the effect of wake from the front tyres. This helps in analyzing data and ensuring the car's performance is in par with simulation data. The AlphaTauri had aero rakes fit near the front axle when Gasly spun.
The Frenchman was trundling along in 4th gear when he suddenly lost control of the rear of the car. Gasly suffered an awkward spin and just ended up in the gravel trap. Gasly ultimately spun due to extremely low track temperatures and cold tyres, which is a recipe for disaster.
Going for an early morning spin 🤪

Those chilly Barcelona mornings can bite at any moment, as Pierre Gasly found out ❄️#F1 #F1Testing pic.twitter.com/d3rPnSPreF

— Formula 1 (@F1) February 20, 2020
F1 tyres are extremely sensitive to tyre and surface temperature, which directly affects grip and graining. This is is why drivers are constantly required to keep temperatures up to prevent avoidable incidents.
Gasly had a disappointing run in testing last year. The Frenchman was involved in a major crash and suffered a spin whilst testing For Red Bull in 2019. This dented Gasly's confidence, which ultimately resulted in the infamous demotion to Torro Rosso.
However, Gasly has revealed that he wouldn't change his approach to testing this year, despite the setbacks. Speaking to Autosport, Gasly said:
"In a way, I didn't crash many times I think last year during the season and testing in a way is also done for that – I'd rather crash in a test than during a race," 
"So, no, I won't change my approach"
Daniil Kvyat tested for the team yesterday and Gasly took over for today. The final day of testing will see both drivers share testing duties in the morning and afternoon sessions.
As of writing this article, Sergio Perez currently leads the pack with a time of 1:17.347. Followed by Renault's Daniel Ricciardo and Gasly.
Romain Grosjean has completed the most laps at 39, followed by Gasly at 37.
Mercedes ended day 1 with a familiar 1-2 and will be looking to keep that momentum heading into day 2.