WATCH: Raikkonen Reflects on Old Non-F1 Battles With Vettel at Ferrari
Published 07/10/2021, 1:11 PM EDT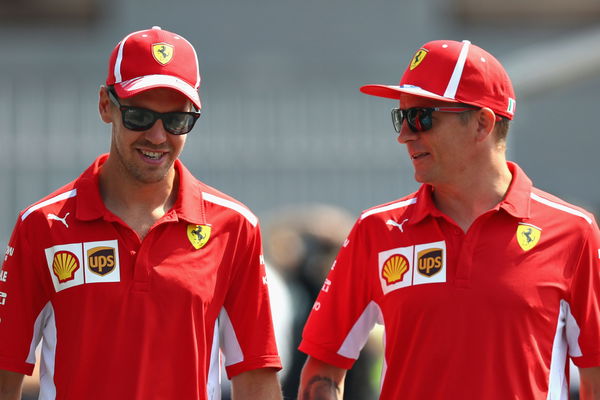 ---
---
Sebastian Vettel and Kimi Raikkonen share one of the most iconic bromances on the F1 grid. The former Ferrari teammates have had some memorable moments both on and off the track. Raikkonen shed some light on one of these moments in a recent Meet the Drivers session.
ADVERTISEMENT
Article continues below this ad
A fan asked Raikkonen about the badminton matches between the two, and if they still play together. Kimi confidently answered, "I have won every time. And this is the true story!"
This prompted a laugh from the fans, as Kimi went on, "We haven't played for many years now. I don't know if he doesn't want to play."
ADVERTISEMENT
Article continues below this ad
Sebastian and Kimi share an innocent personality that has made them fan-favorites over the years. But when you put the two together, it only gives us, their fans, some iconic moments.
Playful Sebastian Vettel and 'Iceman' Kimi Raikkonen
The polar opposite personalities of the two drivers have made their bond extremely unique. Once drivers for the Prancing Horses, Raikkonen has said "For me Sebastian and Antonio (Vettel and Giovinazzi) are friends. Apart from them, I don't have many."
This carries a lot of weight coming from the Iceman himself, who usually prefers to be by himself. After all, it's not surprising. The two have faced the same struggles for a long time.
They drove for Ferrari at a time where the tensions between the two could have gone the other way. However, they left the rivalry for the race and fought clean.
ADVERTISEMENT
Article continues below this ad
The on-track rivalry between the two hasn't died down, that's for sure. The German and the Finn stand as a good example for a lot of the next generation of drivers on the grid. Things can turn sour easily, with the immense amount of pressure put on the drivers.
Very rarely do you find a pairing as peaceful as this. Kimi holds Seb to his word in the interview and says, "He [Vettel] said to me he's going to beat me when I get older, but so far it hasn't happened." Looks like it's time to book a badminton court for the two to finally battle it out.
ADVERTISEMENT
Article continues below this ad
Watch this story: Biggest Pitlane Mishaps Featuring Hamilton, Raikkonen & Verstappen