WATCH: Ricciardo Savagely Mocks McLaren F1 Teammate Norris With NSFW Dig During Hungary Test Event
Published 08/03/2021, 9:35 AM EDT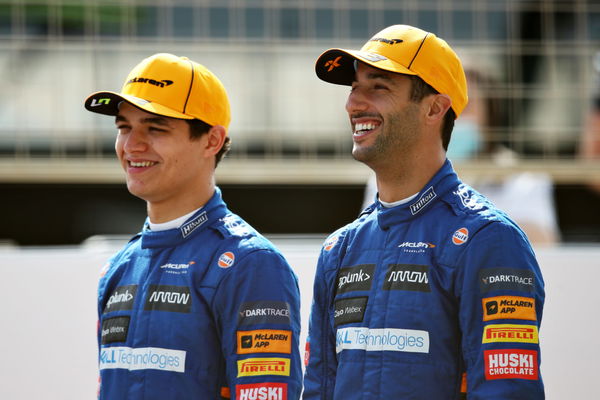 ---
---
The joker of the grid, Daniel Ricciardo, acts "real mature" in a recent Instagram post; the driver takes advantage of an empty pit board. Using a double innuendo, the driver gives his teammate a 15-second penalty from the stands. After a devastating race for the McLaren drivers at Hungary, Ricciardo looked to provide comedic relief on his Instagram.
ADVERTISEMENT
Article continues below this ad
The Aussie giggled uncontrollably as he held up a board reading 'PEN15' as Norris drove by. Ironically, Ricciardo posted his video moments after McLaren posted their own video decoding the meaning behind the pit board.
ADVERTISEMENT
Article continues below this ad
The two drivers didn't have a desirable weekend in Hungary. The T1 incident affected both drivers, with Bottas colliding with Norris and Leclerc running into Ricciardo.
Ricciardo and Norris- a bromance in the making?
Daniel and Lando have had their own iconic "bromances" on the grid. Daniel and Max are good friends, both on and off the track. The former teammates spent a lot of time together at Red Bull and grew extremely close. Daniel's predecessor, Carlos Sainz, was also best friends with Lando. The two drivers were inseparable off-track and were often spotted playing golf together.
While 'Carlando' and 'Maxiel' still exist, Ricciardo and Norris may have finally started getting along. The two didn't instantly click when Daniel arrived at McLaren. While laughs with Ricciardo are a given, their relationship differed greatly from what they had with their former teammates.
Norris accepted this, saying the age gap meant a difference in interest. "Our interests away from the circuit are very different; he's more into making wines and clothing and things and I'm more into golf and Esports and those kinds of things, which Carlos was a bit more into."
ADVERTISEMENT
Article continues below this ad
As a result, the two don't spend too much time together off the track. However, McLaren's 'Unboxed' video following the British GP gave fans hope, as it showed the teammates bonding with each other and cracking jokes. As Daniel refers to a pit board joke once made by Norris, it looks like the two are getting along; albeit in their own funny way.
ADVERTISEMENT
Article continues below this ad
All jokes aside, the Papaya drivers have an enormous challenge ahead of them. Currently tied with their rivals, Ferrari, the two need to have their heads down and elbows out at Spa to get ahead of the game.
Watch this story: Love Is in the Paddock: F1 Fraternity Rings in Valentine's Day