WATCH: Sainz Reveals Hilarious Ricciardo Themed Jockstrap Gift From McLaren
Published 06/02/2021, 3:24 AM EDT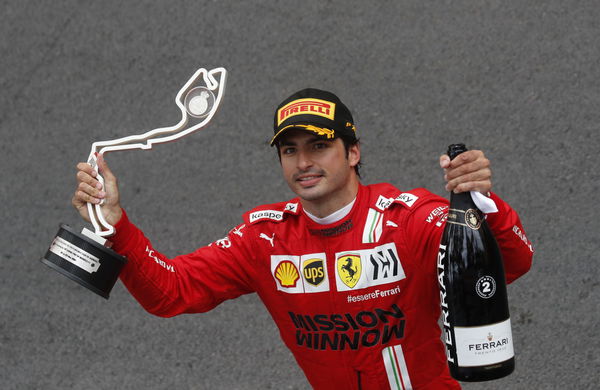 ---
---
F1 is undeniably one of the most intense racing series on earth and has delivered some incredible nail-biting moments over the years. However, when it comes to the off-track scene, certain drivers including Carlos Sainz and his McLaren successor, Daniel Ricciardo, have produced some hilarious moments.
ADVERTISEMENT
Article continues below this ad
And the one that stands out is the moment where Ricciardo kicked the Spaniard in his crotch during a live TV interview. Sainz groaned for a second before chasing after the Australian to return the favor.
Interestingly, Sainz had received a gift from McLaren following the hilarious encounter between the two F1 drivers. The British team decided to protect the Spaniard from any such incidents in the future by gifting him a jockstrap.
ADVERTISEMENT
Article continues below this ad
However, that wasn't it. McLaren also imprinted an amusing caption on the gift, referencing Ricciardo's kick.
Carlos Sainz reveals the gift from McLaren
During an episode of Sainz's Don't Blink, the former McLaren driver revealed the gift he received from his team. "My friends at McLaren, who gave me this 'Big Cojones Sainz' because Ricciardo decided to give me a 'Sardineta'," he said.
"A punch 'there' and they sent me this to protect myself."
Sainz is definitely one of the most loved F1 drivers in years, all thanks to his former McLaren teammate, Lando Norris.
The duo's bromance gained a massive fan following for the entire F1 community, and this particular line-up turned out to be one of the most talked and cherished ones in years.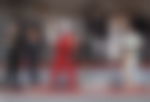 The duo recently found themselves celebrating on the podium together for the first time. While Sainz finished the race in P2, Norris managed to grab onto P3 at Monaco.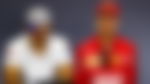 The Ricciardo-Sainz moment at Silverstone
The then-McLaren duo, Norris and Sainz were busy attending an interview in the paddock at the British Grand Prix in 2019. However, little did Sainz know that the cheeky Ricciardo was planning something for the Spaniard.
ADVERTISEMENT
Article continues below this ad
The Australian sneaked behind Sainz and kicked his groin, as the entire paddock burst into laughter. Amidst all of that, Sainz left the interview midway to chase after the then Renault driver for payback, as both the drivers laughed before Ricciardo left to his garage while Sainz returned to the interview after the brief haul.
With the duo still lingering around the paddock, there is always a possibility that the fans could come across more such pranks being played against each other. But how will it pan out in reality? Will the duo keep churning out more such hilarious moments in the future? Well, let's hope so.
ADVERTISEMENT
Article continues below this ad
Watch Story: Shortest F1 Drivers Ever Feat. Yuki Tsunoda & Lando Norris