WATCH: Scary Crash at Le Mans Cup Causes Pileup & Leaves Debris Everywhere
Published 07/11/2021, 6:48 AM EDT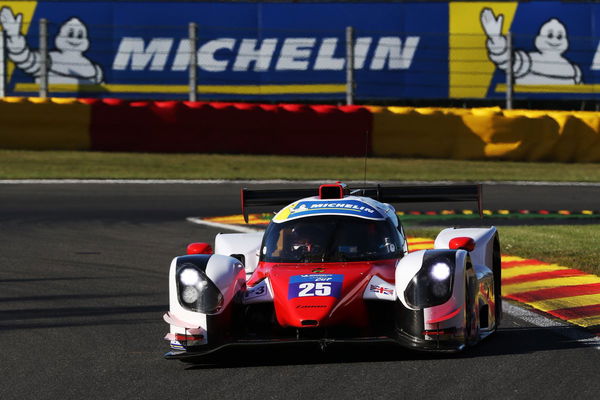 ---
---
In motorsports, whether it be in Formula One, NASCAR, IndyCar or any other spec series, there are bound to be crashes and accidents. This weekend was no different as crash at the Le Mans cup race in Monza.
ADVERTISEMENT
Article continues below this ad
Thankfully, due to the increase in safety measures, no one was harmed from the horrifying accident that took place in Italy over the past weekend.
A major crash witnessed at a Le Mans race in Monza
ADVERTISEMENT
Article continues below this ad
As the cars were zipping around the Italian circuit, IDEC Sport's car crashed into the barrier of the track and bounce back right onto the center of the circuit.
Furthermore, drivers were still zooming past the stationery car, as the yellow flag was being waved. However, Team Turn driver, Mattias Luethen was going for an overtake to gain a position amidst the chaos.
But he went for the outside, which saw him go onto the grass and lose control of their car; this then wiped out another car on track. Thankfully, no one of the drivers in any of the crash were harmed.
Watch Story: From Shocking Lewis Hamilton Crash to Ferrari Pit Stop Blunder: Most Sensational Moments in Bahrain GP History
Formula One  is no stranger for shocking crashes
The sport of Formula One has had its shares of horrifying accidents. The most notable one is at the Emilia Romagna Grand Prix earlier this season. It involved Williams' George Russell and Mercedes' Valtteri Bottas, and, so far, has been the scariest accident this season.
ADVERTISEMENT
Article continues below this ad
It was on lap thirty-two of the race; Russell was aiming to gain a position on the Finnish driver, but Bottas moved on the very last second, which threw Russell off-guard, and onto the grass, losing grip, then hitting Bottas's right-front tire.
The two came together and went onto the gravel at breakneck speeds. Both Valtteri and George were unharmed but extremely furious at how the situation played out, as they went home from the Grand Prix empty-handed.
It certainly was one of the most gut-wrenching crashes that we have seen in F1 so far this season. Seeing Russell and Bottas walk out of the wrecked cars, uninjured certainly put fans and spectator's minds at ease.
ADVERTISEMENT
Article continues below this ad