WATCH: Sebastian Vettel and Daniel Ricciardo Enact What They Will Miss About Kimi Raikkonen
Published 09/02/2021, 11:35 AM EDT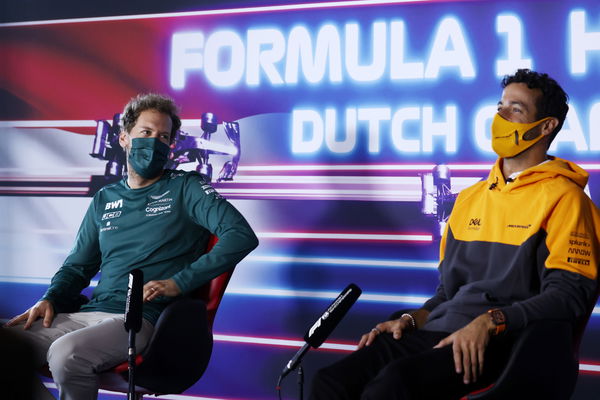 ---
---
Kimi Raikkonen will bid farewell to the F1 racetracks at the end of the season. The 2007 champion is leaving the sport as its most experienced driver at 41. Raikkonen's 20-year-journey has been more than memorable – or has it?
ADVERTISEMENT
Article continues below this ad
On the track, Kimi has easily become a legend of the sport. But he is called the Iceman for good reason. For the press conference ahead of the Dutch GP, Daniel Ricciardo and Sebastian Vettel were asked about their favorite Kimi Raikkonen moment. The conference room was suddenly quiet as neither driver replied.
i
ADVERTISEMENT
Article continues below this ad
Vettel then said, "Exactly that: silence!" Daniel Ricciardo agreed in laughter saying, "The awkward silence!" 
Kimi Raikkonen's notorious silence during press conferences and simple one-line answers will surely water down the F1 experience. A major part of the memes and unintentional fun, the Iceman's silence and indifference kept us entertained for two decades.
Kimi Raikkonen hates the press
From refusing to answer questions or removing his sunglasses, Raikkonen's incidents with the press are legendary. Drivers, fans, and the journalists alike – everyone knows and jokes about Kimi's hatred for conversation. The Finn, a man of few words, is famed for "bwoah"-ing his way out of the conversation.
As Vettel's former teammate at Ferrari, the two had a lot of fun together. The two champions surely have a lot of memories to hold to. Vettel once positioned Raikkonen as his best teammate ever.
ADVERTISEMENT
Article continues below this ad
The German said, "You know, many times people tend to make things much more complicated than they are, especially in Formula 1, so it's good if you can work with somebody where there are no politics or no confusions or anything…he is pretty straightforward."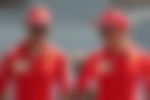 Raikkonen's no-nonsense attitude made him one of the best drivers the sport has seen, and we will remember him for it.
ADVERTISEMENT
Article continues below this ad
Actually a funny guy, his few words make a big impact. Kimi's drink, his drunk moments, and most of all, his team radios – there's a lot to miss about the Iceman. Raikkonen races in the final season of his 'hobby'; we hope the next 11 races are a parting gift of laughter from the Finn.
Watch this story: From Drunk Gala to Dry Responses: Kimi Raikkonen's Funniest Moments