WATCH : Sebastian Vettel Hilariously Imitates 'Crazy Frog' on the Team Radio
Published 06/21/2020, 11:54 AM EDT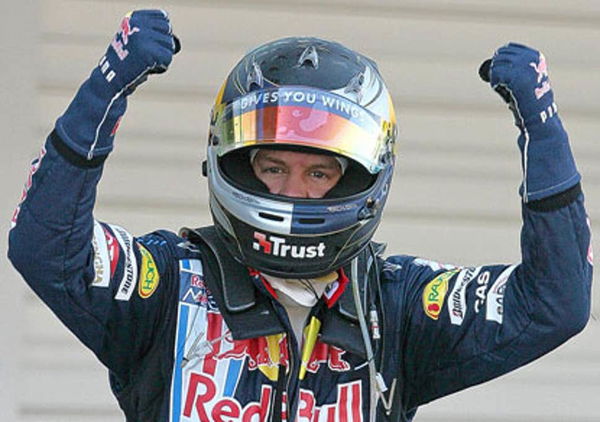 Sebastian Vettel is set to race in his last season with Ferrari. The 4-time world champion finds himself without a seat for 2021 as of now. It's safe to say that the German didn't quite hit the heights that were expected of him once he joined the Prancing Horse from Red Bull. To put things into perspective, Vettel won 14 races with Ferrari in 5 years whereas he won 13 races in just the 2013 season with Red Bull. Obviously, Ferrari have to take some of the blame since they weren't able to provide him with a title-winning car. Just to emphasize that fact, in this throwback video, Vettel thanks Red Bull for their RB5 on the team radio after he won at Silverstone in 2009.
Sebastian Vettel thanks Red Bull for their wonderful RB5
After Vettel wins his first race at Silverstone, he thanks his team for providing him with a great car. Vettel is heard saying the following message on his team radio, "Thank you very much, guys. Wonderful car, wonderful car. Perfect. Thank you."
He then goes on to sing the lyrics of the infamous crazy frog song as a token of appreciation. Vettel says "I would say, ring ding ding ding, ring ding ding ding baaaaaw." Not wanting to call into question his intriguing song choice, don't expect Vettel to dedicate this song to Ferrari any time soon.
2009 was the German's first season with Red Bull. Vettel was promoted from Toro Rosso on the back of an impressive season where he won a race with Red Bull's junior team. In his first season with Red Bull, Vettel showed just how good of a driver he was. Vettel won 4 races and took a total of 8 podiums, finishing 2nd in the Drivers' championship. It also marked the beginning of Red Bull and Sebastian Vettel's glory days in the sport. For the next four years, Vettel and Red Bull dominated the grid, winning 4 back to back world titles. Their streak was finally broken by Lewis Hamilton and Mercedes in 2014.