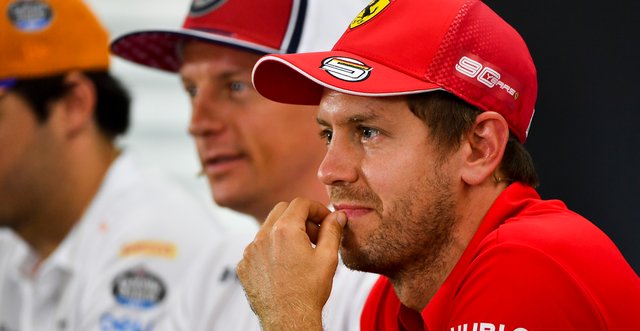 The 2019 German Grand Prix. Voted the best race of the decade, it had everything a passionate fan could ask for. Drama, chaos, rain, and a certain 4 times World Champion redeeming himself after heartbreak at last year's race. Many fans remember almost everything that happened in Hockenheim last year, but a new video has emerged highlighting the class act that is Sebastian Vettel.
Sebastian Vettel: Warm gesture after a cold race
Anytime there's a wet race in Formula 1, it's a recipe for guaranteed chaos. Last year's edition of the Hockenheim race one-upped its predecessor to produce a magical race. On Saturday, Lewis Hamilton powered to yet another pole and looked set to win his second German GP in a row. However, the heavens opened up on race day, throwing a spanner in the works.
Mercedes, celebrating its 125th anniversary in motorsport, were favorites to win their home race which they sponsored. Sadly, the tricky conditions made life miserable for Hamilton and caused a nightmare for the Brackley outfit. Hamilton ultimately finished ninth after a disastrous race.
For Sebastian Vettel on the other hand, there was a change of fortune from 2018. Starting plumb last, Vettel kept a cool head to finish a commendable P2 in a race of attrition. Fans often ridicule Vettel for his spins and mistakes on track but on that fateful day, he was the only one of the top 6 drivers not to commit blunders.
Sebastian congratulating FIA Race-Director, Michael Masi, after a chaotic 2019 German GP – at the time, it was arguably the toughest race Masi had been in charge of since moving into the role in Australia that year. from r/formula1
While the race was enjoyable for fans, there were a few unsung heroes that deserve credit. The infamous FIA stewards, who don't have the best relationship with fans, but did a stellar job in Hockenheim. Amidst all the confusion, incidents, and crashes the race stewards managed to keep control of the situation. However, it was Vettel's post-race actions that deserve applause.
Reddit user peke_f1 posted a video showing Seb's classy side.
The German driver congratulated and thanked FIA race director Michael Masi following the race.
"Congratulations, it was a tough one to Manage. No, It's not easy, "
"No, it wasn't. Thanks, Seb. Appreciate it" replied Masi.
"Well done" said Vettel.
The German driver then embraced his press officer, Britta Roeske, in a very wholesome moment.
Not everyone may like him but he's undeniably a stand-up guy in F1