WATCH: Sebastian Vettel Spins Trying to Overtake Carlos Sainz at the Austrian Grand Prix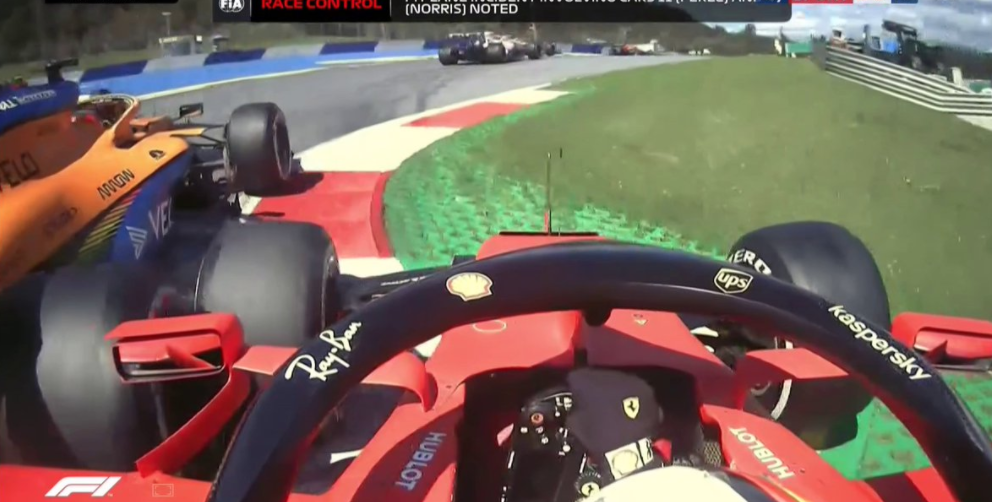 The 2020 Austrian Grand Prix has gotten off to an exciting start, and it has turned into a race of attrition. However, poor old Sebastian Vettel was back to his old ways when he spun during the race. Earlier, the safety car came out because Kevin Magnussen spun out of the race with a suspected brake issue.
At the restart, there was a massive dogfight between Scuderia Ferrari and McLaren. Charles Leclerc was battling future teammate Carlos Sainz and pulled off a move against him.
Sensing an opportunity, Vettel also tried to sneak past and misjudged his braking into the corner.
Vettel a la desesperada #AustrianGP pic.twitter.com/y3kd5oGOrR

— Forever And Always 💚 (@Yaiza_Kidrauhl) July 5, 2020
What happened to Sebastian Vettel?
In the end, he locked up to avoid a collision and spun around. Luckily, there was no contact between the drivers and Vettel was able to continue unabashed.
Unfortunately, it does bring back horrible memories of his reputation as a serial spinner. Of course, now Sebastian Vettel has it all to do because he dropped well down the order.
Luckily for Vettel, a few rivals did not survive the race and several others faced issues. Max Verstappen pulled off to retire with a mechanical issue, as the lack of running took a massive toll on the cars.
Several cars were knocked out due to mechanical issues already, so this could work out fairly well for Vettel if his car lives to tell the tale.
So for now, all that the German can do is put his head down, charge and salvage something out of this swan song. The good news is that he is still on the edge of a point-scoring position.
It is also worth noting that the FIA investigated the incident, but the good news is that no further action was taken. In other words, the stewards deemed that it was a racing incident and cleared both of them of wrongdoing.
DRAMA AT THE RESTART

Vettel tries to get past Sainz at Turn 3, there's contact and the Ferrari man spins 🔄

The German drops to P15 #AustrianGP 🇦🇹 #F1 pic.twitter.com/u9Js3sxYgv

— Formula 1 (@F1) July 5, 2020
My reaction when Vettel crashes: pic.twitter.com/SVZd7bTiU4

— James 🏴󠁧󠁢󠁥󠁮󠁧󠁿 (@Goonerjimbo_) July 5, 2020
vettel na próxima temporada da nascar https://t.co/llIB2J43Vs

— cabral (@kabrz54) July 5, 2020