WATCH: Perez Left Speechless As James Corden Takes On Bizarre Duties with Daniel Ricciardo at Miami GP
Published 05/08/2022, 3:50 PM EDT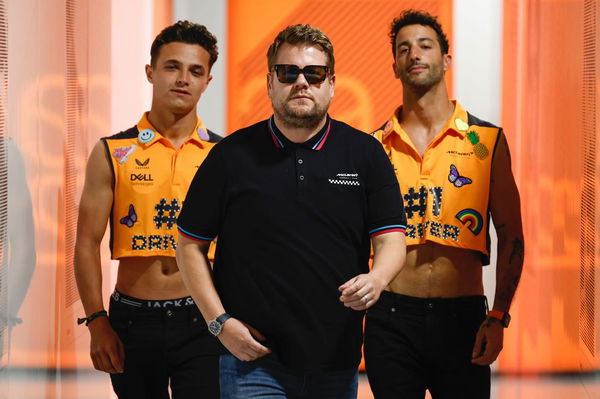 This weekend marks the inaugural Miami GP in Florida. The entire weekend up till this point has been like a massive party. There have celebrity guests and stars flooding the paddock in a bid to get close to the action. This also provided the teams the chance to invite some guests of their own. Williams saw Francis Bourgeois while McLaren invited James Corden to their garage.
ADVERTISEMENT
Article continues below this ad
ADVERTISEMENT
Article continues below this ad
The British TV personality made the paddock his playground. He could be spotted frolicking around with the McLaren duo of Daniel Ricciardo and Lando Norris. However, some of his actions left everyone perplexed and questioning themselves.
James Corden's antics at the Miami GP leave Sergio Perez perplexed
This weekend at the Miami GP, James Corden was the special guest for the McLaren F1 team. The Briton was up to his usual antics, making sure everyone has a great laugh. Corden also ended up gatecrashing Daniel Ricciardo's interview midway.
His actions then left Red Bull driver Sergio Perez scratching his head as he stood and watched the incident unfold.
James Corden interrupted Ricciardo's interview and then proceeded to throw the Australian over his shoulder before walking off. However, something as simple as walking off could only be made hilarious by Corden.
He proceeded to make things awkward with Sergio Perez, who was waiting for his turn with the reporters. They then exchanged a few jokes before Corden allowed the Mexican to walk off.
The fans were loving this interaction, though. Most of them, however, were focused on saving Daniel Ricciardo from what they perceived was torture for the Australian.
Thoughts and prayers are with Daniel, can't imagine what it's like at the moment for him

— Tom (@OveratedLama) May 6, 2022
He's the main character 😩☝🏻

— 𝙙𝙖𝙣𝙞𝙚𝙡𝙖 | 𝙎𝙋11 & 𝙈𝙑1 (@whosdaniiela) May 8, 2022
*blinks save me in Morse code*

— HaasHypetrain (@dustinjefferies) May 6, 2022
My heart goes to Danny Ric in this difficult time

— thiago dias melhores tvz virão (acho q ñ) (@Dias_Thiago) May 6, 2022
Some viewers also hoped to catch this on James Corden's "latelateshow". While others were, as usual, busy fangirling over Daniel Ricciardo.
ADVERTISEMENT
Article continues below this ad
As he should 💁🏼‍♀️ Daniel should be carried everywhere every race tbh☺️

— Siwikiwi (@Siwikiwi) May 6, 2022
ADVERTISEMENT
Article continues below this ad
The fans have loved every minute of the party-esque vibe at Miami so far. Now they eagerly await to see how the race turns out as they hope to catch some more fireworks in Florida. Who are you rooting for in Miami?
Watch This Story: Spectacular helmet designs for the 2022 Miami GP for the Mclaren duo of Lando Norris and Daniel Ricciardo