WATCH: Sneaky Horner Congratulates George Russell on Mystery 2022 F1 Deal After Zandvoort Qualifying
Published 09/05/2021, 2:32 AM EDT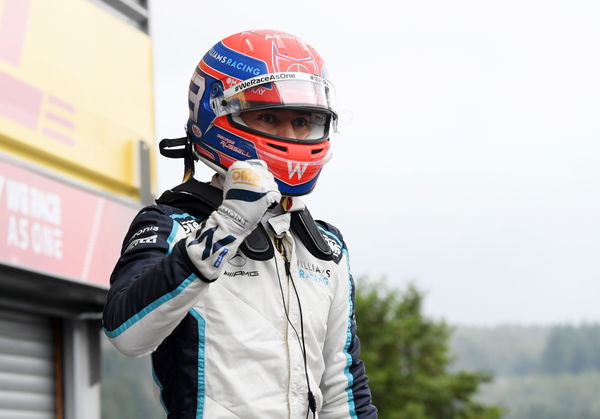 ---
---
The wait could soon be for F1 fans who are yearning to see George Russell sporting the Mercedes AMG suit. Of course, it's not official yet, and neither Valtteri Bottas nor his potential successor, Russell, have affirmed the rumors to be true.
ADVERTISEMENT
Article continues below this ad
However, this Mercedes saga is panning out to be one of the F1's worst-kept secrets, as Red Bull, Christian Horner, hilariously broke out the truth. Horner stormed an interview and congratulated the current Williams driver over the 'new deal.' And now, Russell's move to Mercedes is imminent.
What did the Red Bull boss say?
ADVERTISEMENT
Article continues below this ad
Earlier on Saturday, former F1 world champion, Jenson Button, was busy interviewing Russell in the paddock, right outside the Williams hospitality. Horner, who was passing by then, walked straight to Russell and gave the fellow Briton a pat at the back, and indirectly confessed the Mercedes news.
"Hello, mate! You're congratulating him on his deal," Horner said while Button responded with a burst of laughter. However, Russell had to cover the story up before Horner revealed any further, as he replied, "I don't know what you're congratulating about."
Button soon gave out his opinion on the banter to Russell. "I love that!" he said.
Even while denying the 'new deal' speculation, Russell had the unusual cheeky smile on his face. Hence, it pretty much looked like Russell was desperately attempting to deny what looks like an absolutely open truth.
A juicy George Russell – Lewis Hamilton duel on cards in 2022?
Ever since Nico Rosberg announced his retirement in 2016, Mercedes haven't had much of a teammate rivalry to cope with, as Valtteri Bottas was pretty much playing the second fiddle to Hamilton over the succeeding five years in F1.
However, things are about to change, with a young feisty Russell set to take on Hamilton next season. Hence, a lot would be wondering, will there be an intense rivalry between the duo?
ADVERTISEMENT
Article continues below this ad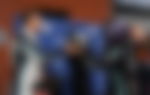 Well, the truth is, there might not be any. It is almost unfair to compare Rosberg-Hamilton with Russell-Hamilton. The former rivalry spurred during the karting days, and it was bound to turn ugly at some point in time. But, it's not the case with Hamilton and Russell.
The duo has built quite a rapport over the past year, and a teammate rivalry looks a bit too far-fetched at the moment. What's more, Mercedes have learned enough from the Rosberg era. Hence, the Brackley outfit will know how to avoid a rivalry between the British duo.
ADVERTISEMENT
Article continues below this ad
Overall, how is the all-British line-up going to work out next season? Can Russell become the third teammate after Button and Rosberg to beat the ever-dominant Lewis Hamilton? Well, only time will tell.
Watch Story: Ugliest Moments in Hamilton-Rosberg Rivalry