WATCH: Strange Incident as Le Mans Driver Makes a Phone Call From Inside the Car
Published 08/22/2021, 4:23 AM EDT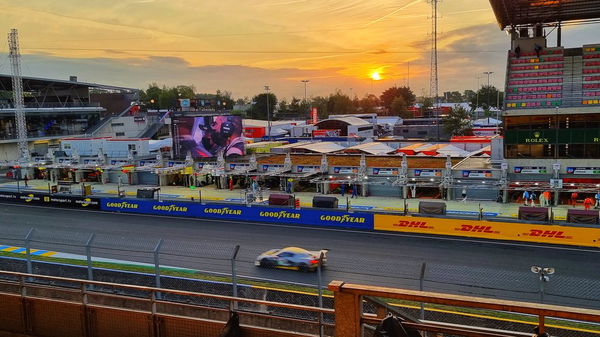 ---
---
It was an absolutely chaotic 24 hours of Le Mans in France, as erratic weather caused several incidents throughout the race. It witnessed on and off rains, which led to a crash between a G-Drive racing driver and Richard Mille Racing's Sophia Floersch.
ADVERTISEMENT
Article continues below this ad
However, then arrived a bizarre onboard, which showed the German holding a phone in hand, talking to someone, which initially remained a mystery.
Why was Sophia using a phone during the Le Mans race?
ADVERTISEMENT
Article continues below this ad
An F1 viewer would have wondered why a racing driver, who was using a phone while inside a cockpit, never received a penalty or even a disqualification. Well, the truth is, it's legal in Le Mans. Moreover, with the race lasting for 24 hours, radio interruptions can always be a cause of concern.
Hence, each driver owns the right to carry their own personal phone with them while racing. Hence, in case of radio failures or emergencies, the drivers will own the right to ring up their team through the phone.
💥 NON ! Ce n'est pas le téléphone perso' de Sophia Flörsch 📱

👉 Chaque voiture, ou du moins quasiment, a un téléphone portable embarqué au cas où la radio est en panne ou ne passe plus, mais également en cas d'urgence 🆘pic.twitter.com/eSN2O2mhwL#LeMans24 🇫🇷 #WEC 🏁

— Off Track (@OffTrack_FR) August 21, 2021
The latest driver to use a phone being Sophia. The Richard Mille driver suffered a crash after an out-of-control G-Drive racing car slid across and collided with her. With the track being wet, it took a while for her car to stop spinning and coming to a halt.
And the moment the car came to a standstill, Sophia immediately called upon her team through her phone while the marshals arrived on the scene to escort her off the track.
Are phones allowed in F1?
The answer is No. While there haven't been any scenarios of a driver using a phone in F1 while racing, it did happen in Formula 2.
In 2018, Santino Ferrucci faced a four-race ban after causing multiple incidents on and off the track, including deliberately crashing into his own teammate, Arjun Maini, during the cooldown lap at Silverstone.
ADVERTISEMENT
Article continues below this ad
But, let's focus on the major incident. An onboard video of Trident caught Ferrucci using a phone while driving. One of his gloves was off, as the American was comfortably using his phone while on the track.
The FIA immediately disqualified Ferrucci from the rest of the weekend, including the main race at the British Grand Prix. The then-Haas development driver had almost $78,000 imposed over his head by the stewards.
FIA's statement read that Ferrucci "violated both the technical and sporting regulations for incorrect driver safety equipment and the prohibition of wireless transmission devices within the car."
ADVERTISEMENT
Article continues below this ad
So, that says it all. Phones or any wireless transmission devices are unauthorized in F1, F2, and any other open-wheel racing. But, will the future witness more of such bizarre incidents?
Watch Story: From Jimmy Kimmel to Ellen: Lewis Hamilton on Talk Shows