WATCH: 'This Goes to Me?' – Hamilton Appears Clueless About Pole Position Award
Published 04/17/2021, 11:26 AM EDT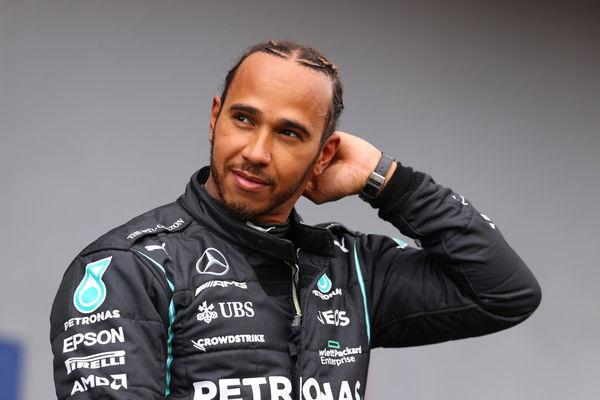 ---
---
Lewis Hamilton has made it quite the habit of not just winning races but also taking home a multitude of pole positions each season. While topping qualifying on a Saturday doesn't give a driver any silverware, it does give them a miniature tire as an award. Hamilton would have collected enough to fill his house by now. Or has he? It intriguingly appears that Lewis has no clue that the 'tire' is actually the award for taking home pole position.
ADVERTISEMENT
Article continues below this ad
In an interesting chat that was caught by cameras, Lewis could be seen asking a track official regarding whom does the 'tire award' goes to. The person who was in equal disbelief replied, "To you!"
ADVERTISEMENT
Article continues below this ad
Hamilton was baffled by what the man said. He replied, "This goes to me? I haven't seen one. I must have many. But I don't know where they are."
Clearly, someone has been stealing Hamilton's pole position awards. Either that or Lewis has an incredibly limited memory, but would you really blame him? The Silver Arrows driver has won so many trophies that he must have even misplaced a dozen of them by now.
However, if he wins the race tomorrow, you can bet he'll be treasuring that award a lot more.
Can Lewis Hamilton keep the two Red Bulls at bay?
The race in Imola presents the seven-times world champion with a rare challenge. For the first time in a very long time, he will have to contend with defending his position against two Red Bull cars.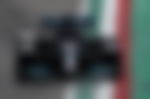 With Sergio Perez and Max Verstappen in P2 and P3, it leaves Lewis vulnerable to Red Bull's strategy calls. And this time he won't have his teammate Valtteri Bottas to aid him, the Finn will start the race in P8.
ADVERTISEMENT
Article continues below this ad
However, Hamilton believes he is up for the challenge. He knows he'll be vulnerable, but one just doesn't win seven championships on the basis of luck. So, expect the Mercedes man to out-think Perez and Verstappen and put his best foot forward in Imola.
It certainly is shaping up to be a great race. Will Hamilton come out on top? Will Perez win his first race with Red Bull? Is Verstappen going to end his Italian funk? We shall soon see which storyline pans out in Italy.
ADVERTISEMENT
Article continues below this ad