WATCH: Turkish GP Prep Gets Underway as Ferrari & Other F1 Teams Arrive at Istanbul Park
Published 09/30/2021, 6:18 AM EDT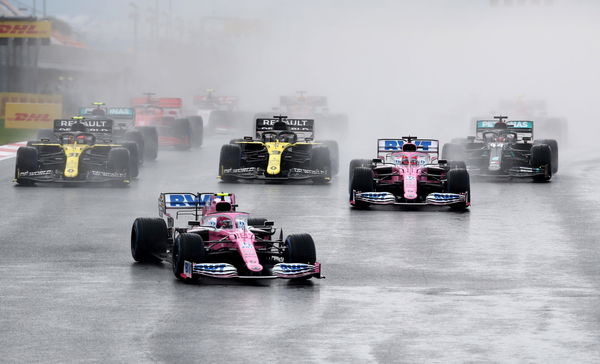 A week's break before the Turkish GP has given the fans and drivers a chance to recuperate from what was an action-packed race in Sochi. Now, the break is seemingly over as the teams head over to Istanbul and lay the groundwork for the next race.
ADVERTISEMENT
Article continues below this ad
As equipment and parts get shifted to Istanbul, now may be a good time to get excited for the next weekend. The internet has spotted big red Ferrari boxes and the stunning Aston Martin safety car in the swift move to Intercity.
ADVERTISEMENT
Article continues below this ad
Further, AlphaTauri's attractive AT02 made itself comfortable in the Turkish circuit as well. After a disappointing two races at Monza and Sochi, they would be hoping to have a better weekend in Istanbul.
As the circus makes its way to Istanbul, excitement is at an all-time high. This season, the once labeled "boring circuits" have produced the most action; it's rare to witness a predictable race in 2021. Additionally, the prediction of another wet race is a thrilling prospect. Barring the weekend at Spa, the rains have been a very dramatic addition to the races this season. More of that this weekend?
Turkish GP promises an exciting weekend
Despite the weather conditions, the track itself is a testing masterpiece. The famous turn 8 'Diabolica' is an extremely difficult and thrilling corner. Multiple apexes and high speed characterize the slightly bumpy corner, which also provides for some riveting overtaking if the drivers choose to do so.
Designed by Hermann Tilke, he used the elevation changes of the area to fabricate the high-speed masterpiece of a track. Further, the track was initially made to be approached in a clockwise direction. However, Tilke's decision to make the drivers race anti-clockwise uses the challenges of the track to its full capacity.
ADVERTISEMENT
Article continues below this ad
If the physical aspects of the race aren't enough for a captivating Turkish GP, the tight competition spread throughout the grid only looks to increase across the grid. Now, after the races in Monza and Sochi, the fluctuating title battle would fuel both the drivers to find a way to get ahead. With only three points separating Lewis Hamilton and Max Verstappen, Intercity is sure to witness some edge-of-the-seat racing.
Further, the midfield battle between McLaren and Ferrari is also getting close; their drivers, too, are hungry for more podium finishes. Also, with the rain set to make an appearance, Norris would want redemption for the race in Monza.
ADVERTISEMENT
Article continues below this ad
As the 2021 grid continues its fight for the points, the Turkish GP presents the opportunity to once again change the F1 storyline.
Watch this story: Ugliest Moments in Hamilton-Rosberg Rivalry