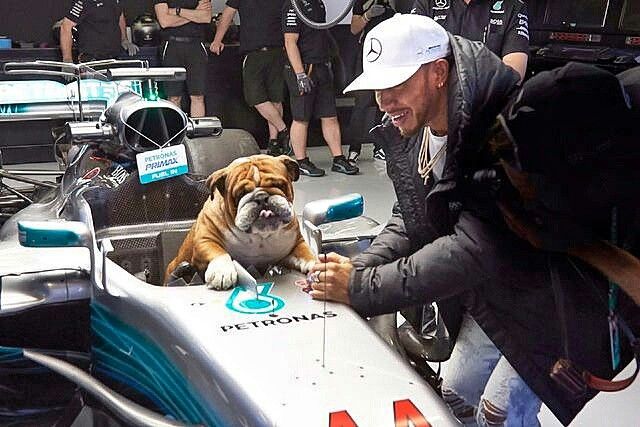 In terms of camaraderie, when drivers are joking around and bantering with each other, everything is just peachy. So, it is clear that Lewis Hamilton and Valtteri Bottas' friendship is thriving. Apparently, the two are also neighbors and have some interesting stories about each other.
During the pre-race press conference for the Spanish Grand Prix, Bottas narrated a story involving Hamilton's dog, Roscoe. According to him, the bulldog relieved itself on Bottas' doorstep a couple of weeks ago, to Hamilton's amusement. Lewis Hamilton joked that Roscoe left him 'presents' almost every day.
To Valtteri

Love From Roscoe 😐 😏 🐶#SpanishGP 🇪🇸 #F1 @ValtteriBottas @LewisHamilton pic.twitter.com/WnDM3RJ6Fh

— Formula 1 (@F1) August 13, 2020
At the time, Bottas was having a barbecue when the dog came in after being attracted by the smell. However, the Finn did not give in to the puppy-dog eyes and refused to part with the cooked food. However, Lewis Hamilton was not convinced, because he confirmed that Roscoe came back to him with an awful stench surrounding him.
Lewis Hamilton only has Roscoe to keep him company
Previously, Lewis Hamilton used to be the proud owner of two bulldogs, Roscoe and Coco. Sadly, Coco passed away in June after suffering from a suspected heart attack. In the wake of her passing, the 6-time world champion penned a touching tribute to the late canine.
He wrote on Instagram, "Last night at around 9pm, my beautiful little girl Coco died at home with the family by her side. Her little heart gave in, we think it was a heart attack. I tried to revive her but it was no use. She'd had the best day, happier than I'd seen her in a long time. She was such a special dog, born with so many problems and I feel so lucky to have adopted her."