WATCH: Valtteri Bottas Retires From the Eifel GP Following Sudden Power Loss
Published 10/11/2020, 9:07 AM EDT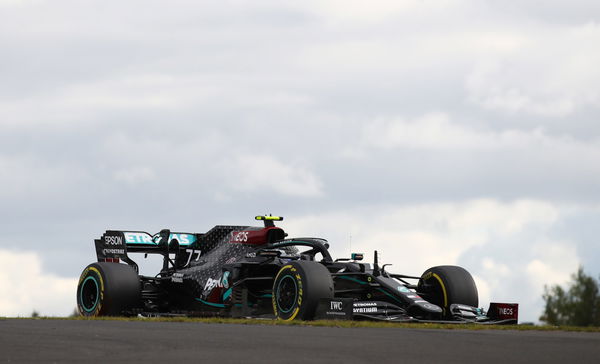 Valtteri Bottas, who was pole-sitter of the Eifel Grand Prix, dropped out of the race as early as Lap 19. This could very well spell the end for Bottas to fight for the World Championship title this season.
ADVERTISEMENT
Article continues below this ad
Bottas took to his team radio to raise a concern over a loss of power; however, his race took a turn for the worse after the team asked the Bottas to retire his car soon thereafter.
ADVERTISEMENT
Article continues below this ad
His teammate, Lewis Hamilton, is leading the race with a chance of extending his lead in the championship table by a massive tally of 25 points.
Hamilton had an incredible start to the race and almost jumped ahead of Bottas; however, the Finn made sure that he regained the position by Turn 3 itself.
But during the start of Lap 14, Bottas made a mistake by locking his front tires and eventually left the track. Lewis took it to his fullest advantage as he managed to get past him and take the lead for the first time in the race.
Bottas was also called into the pits during the same lap after noticing the massive flat-spot on his front tires. Following his stop the #77 driver complained of a serious loss of power; subsequently facing the brunt of the mid-field cars.
This will be a day to forget for Valtteri Bottas, as his chances at lifting the Championship title this year seem to be slipping through his fingers at the moment with Lewis leading the race.
What Valtteri Bottas said During Post-Race Interview
ADVERTISEMENT
Article continues below this ad
Unsurprisingly, Bottas sounded distraught with the retirement as he leaves the weekend with 0 points. "Really disappointed. I was never going to win by easily as I showed in the first corner," Bottas said.
"Obviously, I had the lock-up later on in the race because there was bit of drizzles in some corners. From there I knew it was gonna be pretty good fun and all to play for.
"But just during the VSC[ Virtual Safety Car], I started to lose power from the Power Unit and it never recovered. It was quite a big loss when the team called me in," the Finn said.
ADVERTISEMENT
Article continues below this ad
With this weekend, Bottas has fallen 69 points behind the six-time World Champion and has also turned vulnerable to Verstappen as the gap between the two is now reduced to just 14 points.