WATCH: Verstappen and Hamilton Have an Intense Moment Regarding Contact Between the Two on the Opening Lap
Published 04/20/2021, 5:49 AM EDT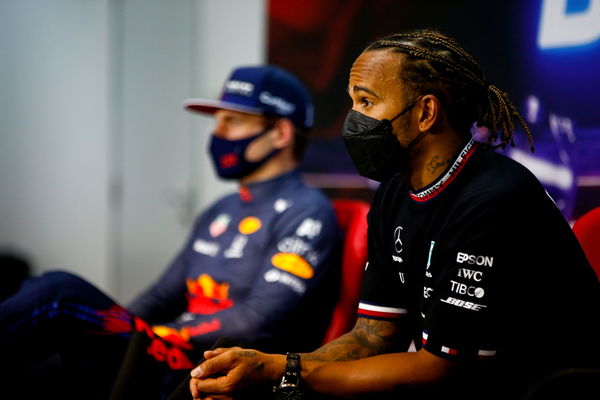 ---
---
2021 has marked the beginning of a new rivalry that has hooked everyone onto the current season – the Lewis Hamilton and Max Verstappen rivalry. The duo have been the best drivers on the grid for a few years now. But with Max finally getting a good car to drive, the championship battle is coming alive and so is the rivalry.
ADVERTISEMENT
Article continues below this ad
However, it hasn't reached the Rosberg – Hamilton level in terms of drama yet. A former F1 driver predicted that it's all about to change soon, and fans got a slight glimpse of this change at the post-race press conference in Imola.
Tom Clarkson, speaking on the 'F1 nation' podcast brought this point up. He said, "They were having a conversation about did they touch (during the start of the race). And Max went, 'no, we didn't touch, ' and Lewis went, 'no, we did, we did touch."
ADVERTISEMENT
Article continues below this ad
This back and forth went on for a few seconds. But the point is that this was the first time thing got slightly sour between the two. And it is not entirely unexpected. This often happens in a straight shootout for the championship. So, expect things between the two of them to heat up from here on in.
Max Verstappen and Lewis Hamilton are learning about each other, claims Damon Hill
The former F1 champion also believes this was the first sight of the duo stepping into some troubled waters. But to dive in any further and ruffle the feathers of their rival, they need to get to know each other slightly better. And Damon believes that's exactly what they are doing now.
ADVERTISEMENT
Article continues below this ad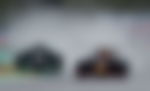 Hill said, "What we are seeing now is just a little opening, little testy moments that are going to build over the season. It's all square, isn't it? I think they are learning about each other."
This certainly has the makings of a great rivalry. And F1 fans would hope they get to witness a lot more battles between the two in not just the coming races but hopefully even in the coming years.
ADVERTISEMENT
Article continues below this ad
Will this be the next Rosberg vs Hamilton feud? Or will we see either one driver put the competition to bed? Perhaps the race in Portugal might give us some answers.