WATCH: Verstappen and Hamilton Tease Daniel Ricciardo Over His Fashion Choice After the Eifel GP
Published 10/12/2020, 3:22 AM EDT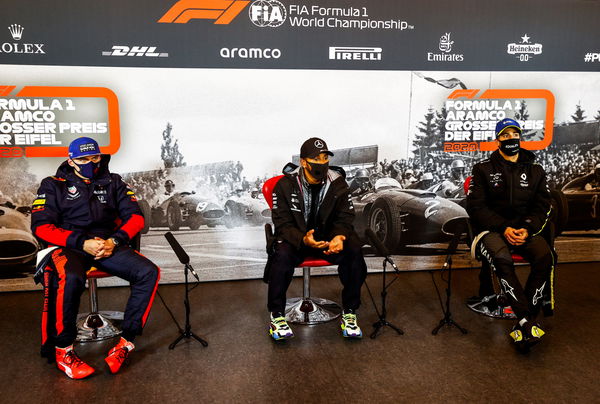 ---
---
Safe to say, Daniel Ricciardo is not one for some cold weather! The Australian driver revealed that he was wearing two pairs of socks to keep him warm throughout the race weekend.
ADVERTISEMENT
Article continues below this ad
In the press conference, Lewis Hamilton and Max Verstappen talked about the weather conditions at Nurburgring; although Ricciardo had nothing to add, he talked about wearing an extra pair of socks.
It was here that both Verstappen and Hamilton started pulling his leg. And the fact that Ricciardo was 'not made for the cold', was a source of amusement to both drivers.
ADVERTISEMENT
Article continues below this ad
Daniel Ricciardo hilariously asks Max and Lewis to not protest about it
Indeed, the conditions at the Nurburgring were quite difficult to get acclimatized to. With temperatures as low as 3° Celsius accompanied by chilly winds and light showers from time to time, necessitating warmth was extremely important for the drivers.
However, Verstappen found Ricciardo's attempt at seeking warmth quite curious and exclaimed "Daniel is not made for the cold". To which Ricciardo responded, "Yeah, they're thin, so I kept my feet warm.
"But I think having the challenge of two day weekends, I like that. So happy, obviously, to do it again in Imola."
Max continued the dialogue stating, "You must have a hole in your nose box or something. There might be a trick somewhere there in the nose." Ricciardo concluded by saying, "Please don't protest! Not today!"
The Renault driver achieved his first podium finish with the team
ADVERTISEMENT
Article continues below this ad
Since leaving Red Bull in 2018, Ricciardo had almost lost sight of what a podium win looked like. He came close to achieving it at Mugello, only for Alex Albon to swipe the win right from his hands.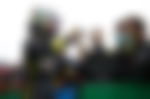 The Renault cars have been constantly showing signs of progress and improvement; what's more, in a bid to fight for P3 in the Constructors' Standings, Ricciardo's podium finish has come in handy.
ADVERTISEMENT
Article continues below this ad
Although the Australian was helped by Bottas and Norris' retirements, he consistently put in fast laps to maintain his position in P3. Sergio Perez was chasing him in P4 for quite some time but eventually fell short by 1.4 seconds.