WATCH: When Kimi Raikkonen Put Salt on Lewis Hamilton's Wounds with a Savage Question
Published 01/03/2021, 1:00 PM EST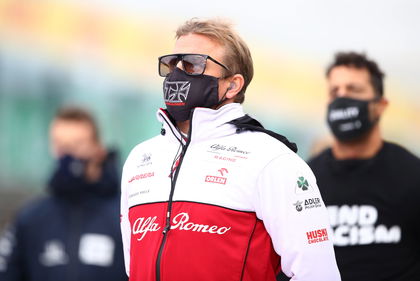 ---
---
Kimi Raikkonen is one of the wittiest racers on the circuit. Despite a long and strenuous career that takes the fun out of many, the Iceman hasn't run out of humor. The nickname does not come without an explanation; it is because of his replies and his carefree attitude that his fans have graced him with it all these years.
ADVERTISEMENT
Article continues below this ad
A good deal might dislike the manner in which Kimi replies to the press or his fellow competitors. However, his manner is simply straight forward. Agreed, it may sound a bit blunt, but he has always been like this, and it is precisely why his fans love him.
Even after completing two entire decades in the sport, he can take the leaders for a ride. We saw a glimpse of his mettle back at Portimao with his flying first lap, the very race that got him the action of the year award. Well, moving up 10 positions on a track where the leaders are locking up is quite deserving of the award.
ADVERTISEMENT
Article continues below this ad
Recently, old footage of Raikkonen from the United States Grand Prix 2018 went viral on YouTube. The memorable stint from the Finn national still lives on. What fans might have missed was the post-race face-to-face amongst the podium holders of the race.
A savage question from Kimi had Lewis running for shelter.
While Max and Lewis were discussing the race, the victor for the day, Kimi slipped in a cheeky question.
"Did you win the championship or not?" Well, an embarrassed Lewis Hamilton could say nothing more than "no."
Kimi's win that day had delayed the title win for Mercedes.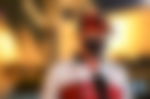 Kimi Raikkonen not thinking about retirement
The press had earlier asked Kimi about his plans to retire in the 2021 season. The thought irritated the 2007 champion, and he decided not to talk any further about that. He also seemed least bothered about breaking Barrichello's record of most race starts, stating he did not race for records but for the fun of it.
Well, even though he raced for the fun of it, Kimi Raikkonen put up another splendid season in 2020. After it concluded, he was still one position ahead of his teammate in the final standing.
ADVERTISEMENT
Article continues below this ad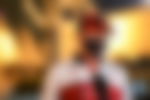 Raikkonen has achieved quite a lot in his almost two-decades-long career. He has accumulated a total of 1863 championship points with 103 podium finishes. Having raced for a total of 17 years now, he is the only pilot to win with all three engines, V10, V8, and V6 hybrid.
However, he does not seem satisfied with his time in F1 yet. He knew he still had the fire burning within and could push more. Thus, he comes out for another season in 2021, driving for Alfa Romeo.
ADVERTISEMENT
Article continues below this ad