"What a Poor Manager!" – Abiteboul Discloses What Prompted Daniel Ricciardo Tattoo Wager
Published 12/01/2021, 7:41 AM EST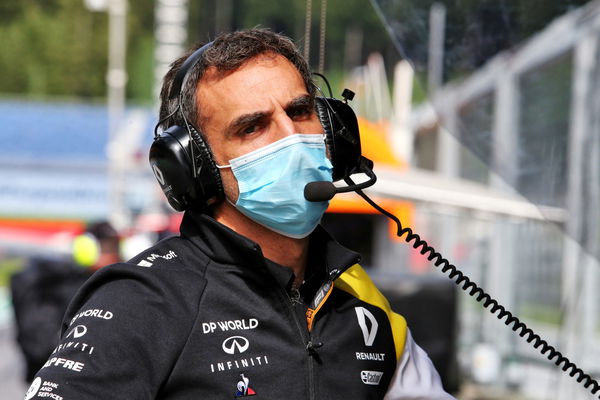 It has finally happened- Cyril Abiteboul has finally gotten his tattoo. The perfect ode to Daniel Ricciardo and his podium with Renault. However, the long journey to this moment has been a regrettable one for the Frenchman.
ADVERTISEMENT
Article continues below this ad
The tattoo was a divided Renault logo with a Honey Badger under it. Although happy with the end product, Cyril explained how he got there in the first place. Shocked by his own behavior, Cyril said, "You are the manager of the team and you bet against yourself! What a poor manager are you!"
ADVERTISEMENT
Article continues below this ad
Remembering why he placed the bet, the boss got the conversation started. "I remember the tattoo discussion came because Daniel was coming out of a new tattoo. And we had a discussion about the thinking process, and did you lose a bet; that's sort of when the bad idea came about."
As a cheeky smile found its way to Ricciardo's face, Abiteboul went on. "The discussion on if we do a podium…" Abiteboul explained how a simple statement on the Aussie's part on him getting a tattoo set the scene for a wager.
Cyril ended defeatedly: "To negotiate a driver's contract in comparison, is easy."
Looking back at Daniel Ricciardo & Cyril Abiteboul
The team boss and his driver had a great bond. In fact, no one was more heartbroken when Abiteboul received the news of Danny's exit. In a dramatic episode of Drive to survive, we get a glimpse of this strain.
ADVERTISEMENT
Article continues below this ad
Abiteboul dramatically opened the episode: "We need to be in a position for podiums and then fight for wins and then fight for championships–but Daniel has put a stop to all of that."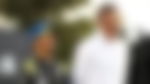 However, the boss explained why he was upset. "What's hurting the most is it's not the long-term project I thought we signed up for… It's immensely difficult, but it's really important to leave the emotion on one side. With Daniel and myself, I don't want to build bridges artificially."
ADVERTISEMENT
Article continues below this ad
Now, it looks like bridges have been more than mended as Ricciardo's two podium finishes for the team must have been a good compensation. Further, with a tattoo to mark the friendship, it's sunny again for the former Renault buddies.
Watch this story: Everything You Need to Know About Daniel Ricciardo's Famous Tattoos