What Changed George Russell's Perception of Lewis Hamilton From a 'Superhero' to a 'Normal Person'
Published 09/10/2021, 4:30 AM EDT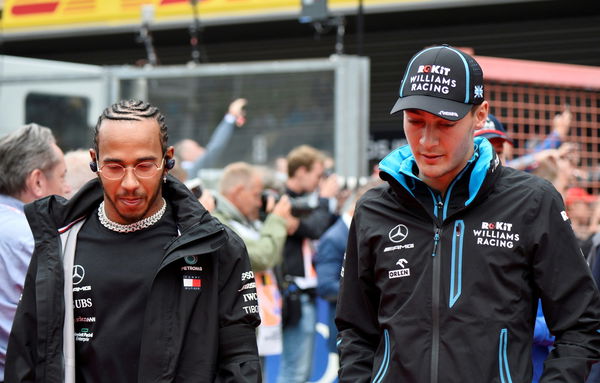 ---
---
George Russell will be making a monumental leap from a struggling Williams to a title-contending outfit, Mercedes, come 2021. Furthermore, after having raced against teammates like Robert Kubica and Nicholas Latifi, the Briton is all set to go head-on with Lewis Hamilton, one of the two 7-time world champions in F1 history.
ADVERTISEMENT
Article continues below this ad
Hence, Russell opined that this particular move felt surreal. And it's not just because he might be a title contender next season, but also the fact that he will be racing alongside a driver who he looked up to as a superhero.
Hamilton, too, in a recent post, revealed a picture of himself posing alongside an 11-year-old Russell, consequently proving the 23-year-old's statement right.
ADVERTISEMENT
Article continues below this ad
What did George Russell say?
In an exclusive interview with ESPN, Russell revealed that he was absolutely ecstatic when he met Hamilton 12 years back. Russell further reckoned that the memory of meeting Hamilton for the first time will remain in his head forever.
"When you are an 11-year-old kid and you want to be a racing driver and you see a Formula One driver, they are a superhero to you," Russell said. "I still remember that day, right now. It just sticks in your memory and it will stick in my memory forever.
"You look up and you think, 'Wow, it's Lewis Hamilton, a Formula One driver'. So I guess it is quite surreal that I will be lining up against him next year," he continued.
I thought he was a superstar: Russell
After joining F1, Russell revealed that he was struck with the realization that all drivers are equal and normal. However, he couldn't resist the fact that he once believed Hamilton was the superstar of F1.
ADVERTISEMENT
Article continues below this ad
"But equally, as you grow up and you get inside the paddock, you realise that everybody is a normal person. Even if they may be incredibly talented in their given industry. But definitely, at that time I thought he was a superstar," he said.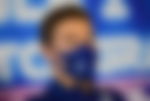 Overall, an interesting 2022 season is in the offing, and the fans' much-yearned pair-up has officially arrived. While Hamilton thrives under pressure, Russell is a blazing young driver who has the competence to pile up relentless pressure on the 36-year-old.
ADVERTISEMENT
Article continues below this ad
Hence, how interesting is the Hamilton-Russell duel going to be next season? Can Russell manage to oust his superhero in his very first season at Mercedes?
Watch Story: From Lewis Hamilton to the Miz: When F1 & WWE Crossed Over