What is a Rolling Start in F1?
Published 09/05/2021, 3:20 PM EDT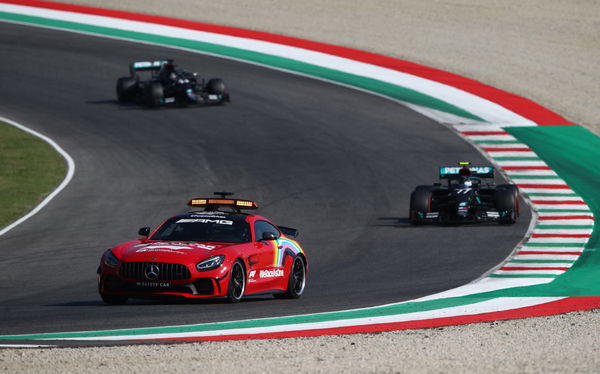 ---
---
There are two ways in which an F1 race restarts- the standing start and the rolling start. While the standing start is as simple as it sounds, a rolling start can get a little complicated. In a rolling start, the cars are arranged behind the safety car, which leads the grid for a certain number of laps before the green flag is waved.
ADVERTISEMENT
Article continues below this ad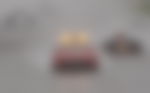 The two-lap race at Spa is the perfect example of the rolling start. Although no green flag was waved, the cars paraded behind the safety laps for a couple of laps. Further, the 2021 race in Imola restarted behind the safety car as well. After Russell and Bottas collided at Tamburello, causing the red flag to come out. Due to the damp conditions, the FIA decided on a rolling restart for the race.
ADVERTISEMENT
Article continues below this ad
Why does F1 need a rolling start?
We usually associate a rolling start with NASCAR, where standing starts aren't preferred. However, in F1, the rolling start is often used if track conditions aren't ideal.
F1 avoids the rolling start for the initial start of the race; this is because of the physics involved in an F1 race start. Also, the cars have quicker acceleration times and are more likely to face accidents. Hence, it is only used in the restart of a wet race.
ADVERTISEMENT
Article continues below this ad
When the race conditions are optimal, the safety car acts as a pace car and leads the grid around the circuit for caution laps. Once ready, the car leaves the track and the green flag is waved. This shows that the field is clear for normal racing. There is usually a small gap between the safety car's exit and the waving of the flag. It's only after the green flag that the drivers are allowed to accelerate to racing speeds.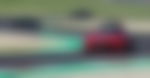 Some notable rolling starts in F1 include 2007 at Fuji, 2008 in Monza, 2014 in Japan, and 2016 in Monaco. All these race starts were incidents because of harsh weather conditions, bringing out the red flags.
ADVERTISEMENT
Article continues below this ad
While the rolling start at Spa stays fresh in our memories, one can only hope it's the last time that happens. Regardless, the restarts keep the speeds of the drivers in check, especially important in damp conditions, thus ensuring a safe restart to the main action of the race.
Watch this story: Lewis Hamilton's Biggest F1 Crashes