What is Extreme E – Lewis Hamilton's Latest Interest in Motorsport?
Published 09/08/2020, 5:47 AM EDT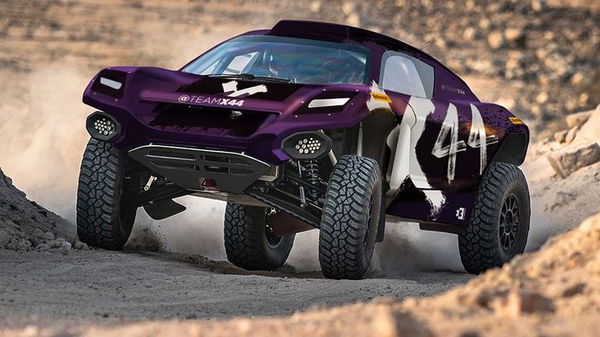 Lewis Hamilton is making the headlines once again, but this time, it is not because of his exploits on the racetrack. The British driver recently launched his own team branded "X-44" which will take part in the Extreme E series scheduled to take place in early 2021.
ADVERTISEMENT
Article continues below this ad
But wait, what exactly is Extreme E? Introduced by Formula E founder Alejandro Agag, Extreme E is an initiative that combines two aspects that were always at odds against each other, racing and environmental awareness.
A proposed off-road racing series that is spread out over five locations that are affected by climate change, this racing schedule will make use of electric SUVs against these tough terrains.
ADVERTISEMENT
Article continues below this ad
Lewis Hamilton launches X-44
The race format is fairly competitive as well. There will be 8 cars representing the 8 teams that will take part in 5 overall rounds. Post two qualifying rounds based on the position and points accumulated, the Top-4 cars with most points advance to Semi-Final 1 while the Bottom 4 cars go to Semi-Final 2. 
Following a single race in each Semi-Final, the Top-3 cars from SF1 and top car from SF2 battle it out in the grand finale. With the idea of promoting gender equality and a level playing field, each team must have a male and female driver who will complete two laps of the designed course.
ADVERTISEMENT
Article continues below this ad
This necessarily means that both drivers must complete a lap each of driving and co-driving. 
Furthermore, a specific vehicle named the 'Spark Odyssey 21' has been developed for this series. Weighing 1650 kg with a proclaimed power of 400kW, the car can reach 0-60 mph in a matter of about 4.5 seconds.
But most definitely, the objective of the Extreme E series is in providing support to these remote locations from an environmental and social standpoint.
ADVERTISEMENT
Article continues below this ad
Speaking about the initiative and the use of sustainable technologies, Hamilton said, "What is most appealing though, is that the Extreme E Championship will be not only raising awareness of some of the most critical environmental issues facing our planet, but also doing something about it through working with local charitable organisations to leave behind no trace, and a long-lasting legacy of change." 
The X44 team will surely set foot on the track with the winning mentality instilled by their owner Lewis Hamilton, but at the same time, also take on a larger challenge at hand in the form of environmental issues and the desire to make a change with the promotion of awareness.