What is the Longest Pit Stop in F1 History?
Published 05/28/2021, 2:50 PM EDT

Follow Us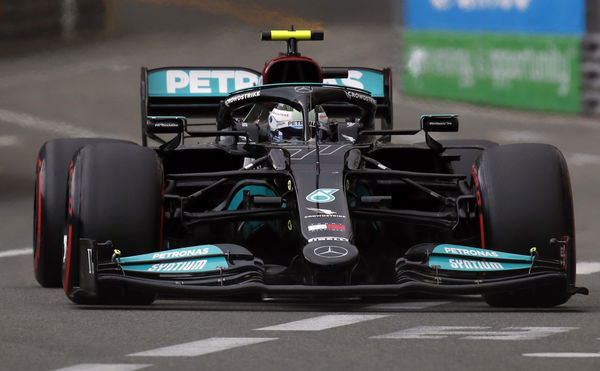 In F1, each second is important. So when drivers pit, all the attention is on their crew to get the car back on track as fast as possible.
Presently, the four tires require changing during a pitstop. In some cases, there is also a need to change the front wing of the vehicle.
F1 is a team sport, and this is visible during the pitstops. Each team has a crew of almost 20 individuals.
ADVERTISEMENT
Article continues below this ad
A Pitstop in motorsports can be an interruption for refueling, new tires, mechanical changes, or a punishment. It can even be a mix of the above. In Formula One, mid-race refueling has been restricted since 2010. Vehicles generally stop for changing tires.
A Pitstop can be planned as well as unplanned and sudden according to the racing situation. A car generally pits once or twice depending upon the circuit.
At the point when the vehicle is roughly one lap away from the pitlane entry, the crew sets up new tires and all the required material for a successful pitstop.
Stops can frequently be longer in current F1 if parts need changing, if there's an issue with the wheel nut or if the front wing needs some arrangement for oversteer or understeer.
The pitstop time will likewise increase if a driver suffers a puncture. Sometimes, there is debris that has to be removed from the race car. Every second lost adds misery to the driver.
Current records of F1 pitstops
An F1 pitstop normally takes 2 to 3 seconds to finish. Nowadays, Red Bull is totally acing the art of pitstops. The group has been doing sub 2-second pitstops and different teams simply look at the Red Bull team with wonder.
Red Bull Racing holds the current world record for the quickest pitstop, with a 1.82 second stop performed at the 2019 Brazilian Grand Prix. It was performed on Max Verstappen's Red Bull.
The job's done. 🧰🛠 Onwards and upwards from here. All eyes on Baku to come back smarter and stronger 💪 pic.twitter.com/VkhOSMj64o

— Mercedes-AMG PETRONAS F1 Team (@MercedesAMGF1) May 27, 2021
ADVERTISEMENT
Article continues below this ad
The longest pitstop ever in F1 sits with the reigning champs. It was the pitstop of the Mercedes F1 team during the 2021 Monaco Grand Prix.
This endured roughly 43 hours, and 15 minutes because of a wheel nut that stuck. Due to this wheel nut, Mercedes driver Valtteri Bottas had to retire from the race.
ADVERTISEMENT
Article continues below this ad
It was all in all a bizarre way of retiring from race. This hurt the Mercedes F1 group greatly. The group lost its position to Red Bull F1 group in both Drivers' and team's titles.
Valtteri Bottas was running second in the Monaco Grand Prix when the pitstop occurred. The tire was removed back at Mercedes' Brackley factory using expert gear.