What Is the "Magic Button" That Lewis Hamilton Accidentally Touched in Baku?
Published 06/07/2021, 7:43 AM EDT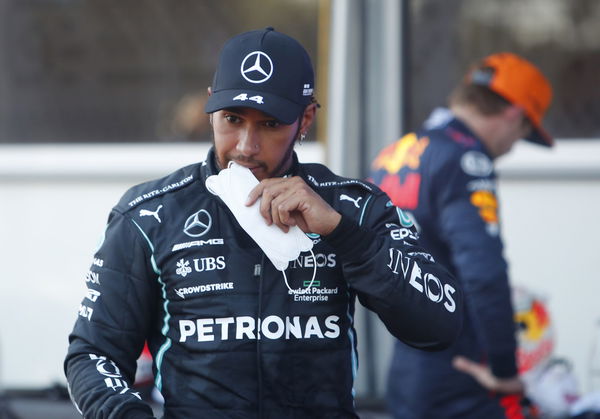 ---
---
Lewis Hamilton endured a Sunday to forget in the Azerbaijan Grand Prix. Although he put in a strong showing despite Mercedes looking weak in Baku, one small mistake undid all his good work.
ADVERTISEMENT
Article continues below this ad
After Max Verstappen's crash in Lap 47, all eyes were on Hamilton to bring big points for the Silver Arrows. However, red flags after the crash brought a 35-minute halt to proceedings.
With just two laps remaining, the FIA resumed the race through a standing start. This turned out to be disastrous for the seven-time world champion, as he ran off the racetrack at Turn 1. The Briton couldn't stop his car in time, which sent him all the way down to P15.
ADVERTISEMENT
Article continues below this ad
After the race, Hamilton asked his team a simple question on the team radio. "Did I leave the magic on? I could have sworn I turned that off." With the Briton referring to the 'magic button' they have on their car, fans across the world wondered how it affected his race so much.
So, what does the 'magic button' on the Mercedes do?
One of the most challenging aspects of a race is warming up the tires, which is especially difficult to do when you're performing a standing start. Before the standing start, drivers get to do a formation lap, where drivers weave around the track to try increasing tire temperature.
One of Mercedes' assets in this regard is a button that affects the car's brake balance. They term this button the 'magic button.'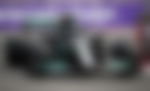 On pressing the button, the brake balance moves towards the front wheels, which applies more force on the front brake discs. When they come in contact with the tires, the extra force generates more heat in the discs, which is transferred to the tires on impact. Since the brake balance shifts towards the front tires, the rear wheels have almost no brakes at all.
Although the 'magic button' has benefitted Mercedes hugely before, it was their undoing in Baku.
ADVERTISEMENT
Article continues below this ad
What did Lewis Hamilton and Toto Wolff say after the race?
Hamilton believes he may have flipped the switch when under pressure from Perez, despite the button switched off at the standing start. The Briton said, "There's a button we have to help keep the front brakes up [to temperature] and, as Perez pulled over, I reacted and accidentally latched on the switch. It just locked up and I went straight on."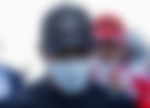 Wolff also believes Hamilton made a mistake with the 'magic button.' The Mercedes Team Principal said, "We have the same procedure.
ADVERTISEMENT
Article continues below this ad
"He touched a button and the brake balance changed. The brake balance went all the way forward and obviously the car didn't stop. It was a finger problem."