"What the F**k Did I Say!" – Vettel Fumes on Radio After Norris' Scary Crash at Belgian GP Qualifying
Published 08/28/2021, 10:54 AM EDT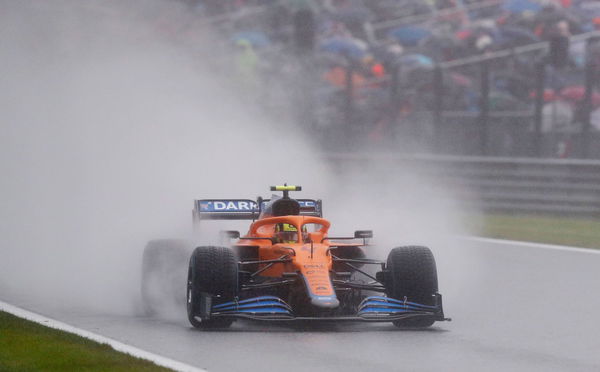 ---
---
The rain at Spa has caused a lot of problems over Saturday's qualifying. While some weren't as serious, as the confusion in tires, Q3 witnessed much more serious problems. The rain hit heavily in the pit lanes and two minutes into the session, Sebastian Vettel took to his radio, demanding the need for a red flag. However, authorities failed to take heed to his advice, as moments later, Lando Norris crashed at the top of Raidillon.
ADVERTISEMENT
Article continues below this ad
ADVERTISEMENT
Article continues below this ad
Vettel's warning bells rang loud as the standing water on the track increased. Even though the remaining of the grid left the pitlane in full wets, it wasn't enough for the weather. After the red flag was called, Vettel lost his cool. "What the f*ck did I say? Red Flag! It's unnecessary." 
After taking a breath, he asked, "Is he okay?" The caring driver then proceeded to Raidillon to check in on the McLaren driver himself.
The experienced driver called tragedy moments before it took place; had the necessary precautions been taken, Norris would have had a better start to his race on Sunday.
Lando Norris robbed of pole
It was a relieving sight to see Lando Norris, climb out of his car, albeit shaken by the massive collision. The Brit was having a great run on the wet tracks, sitting on top of the timesheets. What could have been a maiden pole position for Lando was unfortunately taken away.
Norris and Vettel were the only two drivers on the track, as Norris reported on his out-lap that his car was aquaplaning. Vettel, too, felt the risk of the slippery tracks, immediately calling for the session to be red-flagged.
ADVERTISEMENT
Article continues below this ad
After the incident, Norris apologized to his team, which he shouldn't have to. Although, what has to be done is the reassessment of safety at Eau Rouge. The track conditions were extremely unfavorable and drivers shouldn't have been sent out.
ADVERTISEMENT
Article continues below this ad
The race directors could have prevented the incident. However, it only highlights the importance of listening to the drivers who are on the track. Vettel was rightly fuming after Norris' crash, and it will not be the last we hear about it from the champion.
Watch this story: Ugliest Moments in Hamilton-Rosberg Rivalry