Which F1 Drivers are Currently Dating?
Published 08/09/2022, 7:15 AM EDT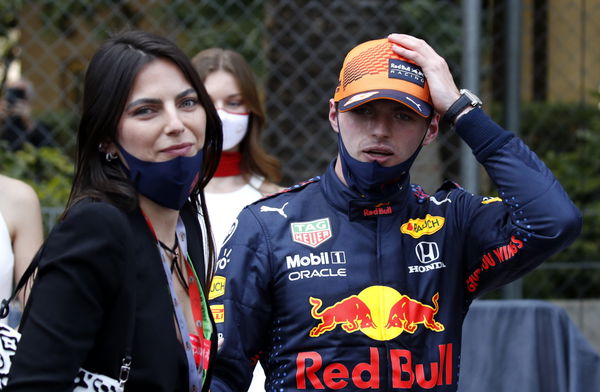 The F1 drivers are always in the limelight. They live in a world full of glitz and glamor. Everything they do, everywhere they go, they're always the point of attraction. And why won't they be? They're no less than extremely talented individuals.
ADVERTISEMENT
Article continues below this ad
However, how well do we know about their partners? Not much we reckon. Why wait then? Let's jump in to see who are the girlfriends of some of the best drivers in the world.
ADVERTISEMENT
Article continues below this ad
Max Verstappen and Kelly Piquet
When it comes to the girlfriends of the F1 drivers, who else but Kelly Piquet comes into everyone's mind? She is a model, columnist, blogger, and also the daughter of 3-time F1 champion Nelson Piquet. The duo started dating at the end of 2020 and are together ever since.
Before dating the Red Bull driver, Piquet was in a relationship with Daniil Kvyat.
WATCH THIS STORY: Daniel Ricciardo Pushed Aside as Lewis Hamilton Takes The Spotlight With Avid F1 Fan
George Russell and Carmen Mundt
The new Mercedes AMG F1 star driver George Russell is in a relationship with Carmen Montero. A student of the University of Westminster, she is a graduate of business management and finance. The duo has been public about their relationship and are often seen spending time together.
When Russell was at Williams, Montero was spotted during Williams's behind-the-scenes race weekend videos.
Charles Leclerc and Charlotte Sine
An architect by profession, Charlotte Sine is the girlfriend of Ferrari's golden boy, Charles Leclerc. The duo started dating at the end of 2019 and they both hail from the Principality of Monaco. Being an influencer, Charlotte Sine has 600k+ followers on Instagram.
Carlos Sainz and Isabel Hernaez
As per thesun.co.uk, Carlos Sainz Jr. is dating Isabel Hernaez. Since the couple has kept their relationship very private, so not much info is available about their private life.
Lando Norris and Luisinha Oliveira
Luisinha Oliveira is a 22-year-old Portuguese model who is also the girlfriend of McLaren star Lando Norris. Lando has been open about his relationship with Oliveira and has shared a couple of photos on Instagram.
Valtteri Bottas and Tiffany Cromwell
Tiffany Cromwell is the next girlfriend on our list and she's dating none other than Valtteri Bottas. A cyclist by profession and Australian by birth, she started dating the former Mercedes man in 2020, shortly after Bottas parted ways with Emilia Pikkarainen.
Alex Albon and Muni He
One of the most famous names in this list is surely Lily Muni He. Lily is a pro golfer and an influencer with over 490k followers on Instagram who is dating Williams' driver, Alex Albon.
The duo is often seen sharing moments together on social media and is one of the most adored couples on the grid.
Pierre Gasly and Katerina Berezhna
Katerina Berezhna, a Ukrainian social media influencer, is the girlfriend of Pierre Gasly. The duo started dating in 2021. However, rumors have it that Pierre has parted ways with Berezhna.
Fernando Alonso and Andrea Schlager
Fernando Alonso is an F1 legend and his El Plan is already quite famous with the fans. However, his fairly new relationship with Andrea Schlager managed to get him even more eyeballs.
The soon to me Aston martin driver and the Austrian presenter regularly like each other's photos on social media and are often seen in public.
Esteban Ocon and Elena Berri
Alpine F1 driver, Esteban Ocon, is dating Elena Berri, an Italian model, and influencer. The duo was seen together back in 2018 and have been together ever since.
The couple is known to keep their dating life private, hence not much is known about them.
Lance Stroll and Sara Pagliaroli
Sara Pagliaroli, an Italian model who's a regular face at various high-end publications, is the girlfriend of Lance Stroll. It's not exactly known when the duo started dating, however, the Aston Martin driver is quite candid about his relationship with Pagliaroli.
Nicholas Latifi and Sandra Dziwiszek
Polish by birth, Sandra Dziwiszek is the girlfriend of Williams' star driver Nicholas Latifi. Dziwiszek is a model by profession. Since the couple has kept their personal life confined to them, very little is known about them.
It saddens me that F1 twitter is hyping up a DTM driver's birthday when Nicholas Latifi's girlfriend has a birthday today too 😭😭😭

Latifi appreciation post pic.twitter.com/vmCki26Xfz

— Andrew™️ (Save the Choco Taco) (@F1_Andrew38) March 23, 2021
Mick Schumacher and Justine Huysman
Justine Huysman is the girlfriend of Mick Schumacher. Huysman is the daughter of the former Norwegian racer Harald Huysman. Since the duo wasn't vocal about their personal life on media, not much is known about them.
ADVERTISEMENT
Article continues below this ad
It is speculated that Mick's father, Michael Schumacher, and Justine's father Harald Huysman were friends.
ADVERTISEMENT
Article continues below this ad
Out of all these lovely couples, who do you adore the most and would like to see at the paddock more often?