Who Inspired Daniel Ricciardo's Peculiar Shoey Celebration?
Published 09/18/2021, 12:58 PM EDT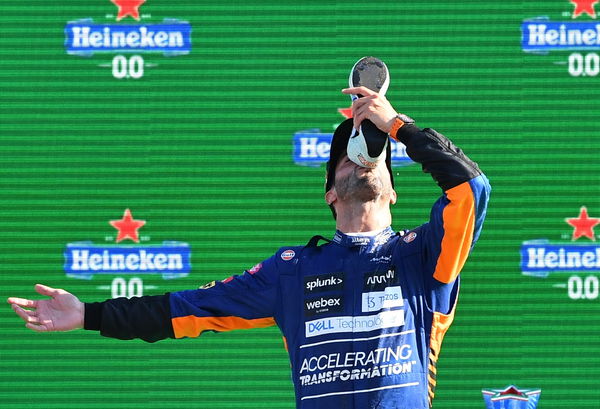 ---
---
Daniel Ricciardo is arguably one of the most loved drivers on the current F1 grid. Along with exceptional skills on track, the Australian's personality features among the most energetic ones in the paddock.
ADVERTISEMENT
Article continues below this ad
Last weekend, Ricciardo claimed his eighth career race victory and his first in three years. This heralded the return of the shoey, which Ricciardo established as a trademark in his podium celebrations.
What inspired Daniel Ricciardo to do his iconic shoey celebration?
ADVERTISEMENT
Article continues below this ad
In a career spanning 10 years and continuing, the Honey Badger has amassed eight race wins and 32 podiums. Although he scored his first podium in the 2014 Spanish Grand Prix, he introduced the shoey only two years later. The 2016 German Grand Prix saw the debut of the celebration after Ricciardo scored a second-place finish.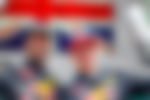 During the driver's press conference in Singapore that year, the Australian revealed the Mad Hueys inspired his celebration. He said, "It basically comes from a few Aussies called the Mad Hueys. They basically travel the world fishing and surfing and they like to drink a lot of beer – so that's where the shoey began."
Although Ricciardo introduced the tradition to F1, he admitted he continued the trend after fellow Australian Jack Miller did it in MotoGP.
"Jack Miller knows some of the Huey guys so when he got his [Moto GP] win in Assen, I suspected he was going to do it – I just thought I'd keep the Australian tradition going," said the 32-year-old.
Did Ricciardo ever skip the shoey since introducing it in 2016?
ADVERTISEMENT
Article continues below this ad
Although it happened unknowingly, the answer to this is yes. After the 2018 Monaco Grand Prix, Ricciardo went through the 2019 season without stepping onto the podium. This was the first time since 2013 that the Australian achieved this unwanted feat.
Last season, he recorded his first podium with Renault in the Eifel Grand Prix. And it seemed he was out of practice, as he forgot to celebrate by carrying out the iconic celebration on the Nurburgring podium.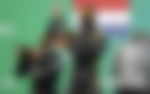 However, that remained the only time he forgot the shoey. And this year in Monza, it wasn't just the shoey that returned, but Ricciardo and winning ways found each other once again.
ADVERTISEMENT
Article continues below this ad