Who is Christian Horner's Wife & Famous Spice Girls Member – Geri Halliwell?
Published 08/12/2021, 7:06 AM EDT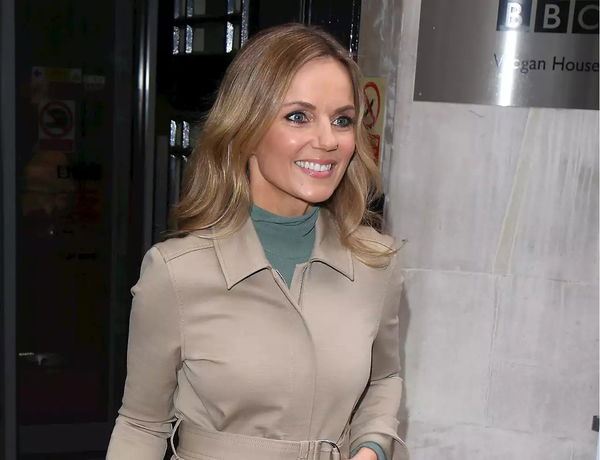 ---
---
Christian Horner has definitely excelled in the field of racing, having guided the Red Bull F1 team to 4 world championship titles. Just years after hitting the high in Formula 1, the Briton found the love of his life, Geri Halliwell.
ADVERTISEMENT
Article continues below this ad
The two married each other in 2015 and gave birth to their first son named, Montague George Hector Horner, later in 2017. But, let's keep the limelight on Halliwell for now. Halliwell was born on August 6, 1972, in England, and has been busily leading a career in music since 1994. She owns an alias name, 'Ginger Spice'.
Halliwell has so far won 5 awards in the field of music after being nominated in 15 categories over the years.
ADVERTISEMENT
Article continues below this ad
Who is Geri Halliwell, spouse of Christian Horner?
Halliwell is a well-known entity around Europe. Hailing from Watford, she is an English singer, who was once part of a famous group. Halliwell is one of the five members of the pop girl group named, Spice Girls, which is still very much active, touring the world.
Another member of the group who is associated with a sports celebrity was Victoria Beckham, wife of Football star, David Beckham. However, Victoria hasn't been as active since 2016, as she devoted her entire commitment to her fashion business.
Halliwell, however, has increased her fame over the years. Apart from being a singer, she is also a songwriter, author, philanthropist, and actor.
What's more, she has also featured in several reality shows as a judge. One of the prominent ones is X-Factor; she featured in the 2010 and 2012 seasons of the UK-based talent show.
Also, she was one of the judges in season 7 of yet another talent show, Australia's Got Talent. She even once featured in an episode of Top Gear in 2004.
'If Only' success & Halliwell's personal life
In 1999, Halliwell wrote her first book, 'If Only', which was an autobiography, depicting her life in the Spice Girls group. The book hit the roof of fame, as she managed to sell over a million copies. What's shocking about the numbers is that it was subjected only to the United Kingdom.
In 2005, she was in a relationship with Sacha Gervasi, a film director, and screenwriter. Eventually, in 2006, she revealed that she had given birth to her first child, Bluebell Madonna.
While Gervasi married another woman in 2010, Halliwell remained single for a while, and finally started dating Horner in 2014. The duo then got married in May 2015 at a church in Bedfordshire. Later in January 2017, she gave birth to her second child.
ADVERTISEMENT
Article continues below this ad
Halliwell is still busy touring the world as a Spice Girl after announcing the reunion in 2018. As of now, the group has come down to 4 members, with Beckham, the only one left out.
Watch Story: From Will Smith to Nicole Kidman: When F1 & Hollywood collide
ADVERTISEMENT
Article continues below this ad