Who Is Formulino- The Lucky F1 Cat at the Imola GP?
Published 04/18/2022, 1:04 PM EDT

Follow Us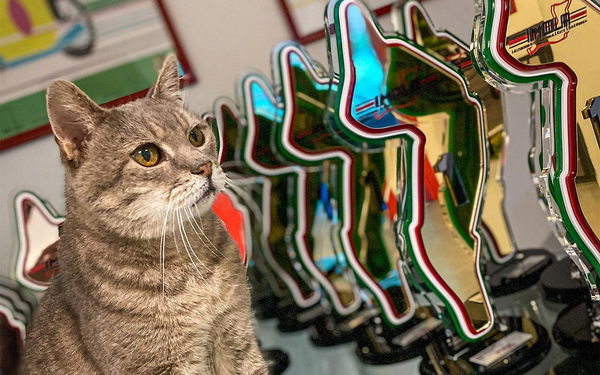 The Imola circuit returned to the F1 schedule during the 2020 season and has become one of the most important tracks. So, every F1 team wants to win at Imola. Teams come up with plans and upgrades to dominate this track. But teams should get cat food rather than upgrades to win at Imola.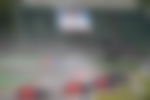 When fans hear about 'King of Imola', they might think about the legendary driver Michael Schumacher, who won seven times on this track when it was called San Marino GP. However, it's not Schumacher but an adorable grey cat, Formulino.
ADVERTISEMENT
Article continues below this ad
Fans can spot the cat at the F1 paddock and it keeps eyes on everything going on in Imola. There are rumors that Formulino brings good luck to those teams and drivers, who come across the lucky cat of Imola. Let's see some incidents to see if Formulino is really lucky or not.
Lewis Hamilton won the inaugural Imola
Formulino went to visit the Silver Arrows garage during the inaugural 2020 season for Emilia Romagna GP. There he came across the seven-time world champion, Lewis Hamilton. The British driver, being an animal lover, sat there and petted the lucky cat of Imola until it decided to leave.
Further, caring for Formulino brought good luck to the Mercedes driver. As Hamilton was in third place after starting the race from P2. But Hamilton then pulled an over-cut move to overtake his then-teammate Valtteri Bottas and rival Max Verstappen. Eventually, Hamilton won the inaugural Emilia Romagna GP. But next season Hamilton finished second in Imola, maybe he didn't meet Formulino.
The Imola Cat vs Sebastian Vettel
The four-time world champion Vettel isn't a cat person. So, he cared little about the lucky cat of the Imola when it went past him in 2020. Vettel was giving an interview ahead of the 2020 Imola race when the cat passed him. So, the presenter told him it's lucky when Formulino graces a driver with his presence.
ADVERTISEMENT
Article continues below this ad
But Vettel ignores the Imola cat. He also had nothing to offer the cat and so he avoided it more, also he called Formulino overweight. Maybe Formulino didn't like Seb's behaviour and cursed him. As the German driver lost his first and also the last Imola race while driving for Ferrari. Since then, Seb still hasn't won a single race in Imola. So, he might need to befriend Formulino, cause it might bring him some luck and success in the future races in Imola.
ADVERTISEMENT
Article continues below this ad
WATCH THIS STORY: Most Dangerous Crashes in F1 History
Formulino undoubtedly has become one of the most famous F1 pets after Lewis Hamilton's Roscoe and Alex Albons' various pets. The Imola lucky cat even has an Instagram page that addresses him as the owner of Imola. Do you guys think Formulino is actually a lucky cat?