Who is Kimi Raikkonen's Race Engineer at Alfa Romeo F1- Julien Simon-Chautemps?
Published 07/20/2021, 3:22 PM EDT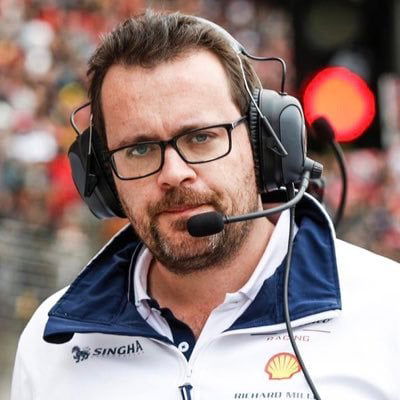 ---
---
The man on the receiving end of Angry Kimi's rants on radio, Julien Simon-Chautemps, is an experienced racing engineer at Alfa Romeo Racing. He has been a part of the Sauber F1 team since 2017.
ADVERTISEMENT
Article continues below this ad
Julien has had 20 years of experience in the challenging world of Motorsport. Of these, he has spent 13 years as a successful and hard-working Race Engineer at F1.
His technical skills are irrefutable, and his leadership is honorable. Julien's team highly respects him, mostly because of his cool problem-solving skills. A determined Frenchman, the engineer gives it his all to get the best results.
ADVERTISEMENT
Article continues below this ad
He's been the voice behind the success of drivers like Romain Grosjean [Lotus F1], Jolyon Palmer [Renault Racing], and more recently, the Iceman Kimi Raikkonen [Alfa Romeo].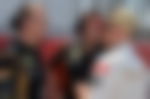 As with anyone associated with the sport, his journey began with an experience that led to the dream. "It is a fantastic sport, something I always wanted to do since I was a little kid."
His journey with the sport began as an 8-year-old whose father brought him to the Monaco GP. "Since I can remember, I always wanted to work in F1 as an engineer… the technical aspects of F1 always amazed me."
To achieve this dream, he studied engineering in Paris. To gain experience, a young and diligent Julien would do 2-6 months' worth of internships annually.
A humble man of humble beginnings, he'd clean the wheels of cars; starting at the bottom of the ladder. "A lot of work, sweat, and a bit of luck," brought him to the top echelon he is at today.
A simple man- he accredits the success of his driver to the entire team, not himself. "I don't think that being a technical specialist is the most important thing…
"I have a lot of engineers covering different things, so I need to know a little bit of everything to be able to understand what everybody is telling me."
Inside Kimi Raikkonen's ears
The Frenchman simply describes his job, "[is] to operate the car so that it goes as fast as possible." Playing the bridge between technology and people is not as simple as that.
The Saint-Raphael native is probably the only person on the paddock who knows the Iceman profoundly. Julien Simon-Chautemps once explained, "The image portrayed by the press does not reflect who he [Kimi] is.
"After all the GPs, he spends an hour and a half at the factory for a technical debriefing… Despite 20years [now, 21] in Formula One, he's still hungry."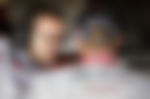 On being his radioman, Julien adds, "The driver is usually told, 'You do this on this corner, you should do this on that corner, you should do that, and so on.
"Kimi isn't too keen on this kind of feedback, he's receptive on the condition that it makes him go faster."
Kimi's hilarious radio transactions are nothing new to the fans, but Julien experiences it first hand. "His way of responding to radio–which television often broadcasts–may seem dry, but it's never personal. It's his way of expressing himself."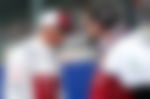 Julien has a special relationship with Kimi. Raikkonen had just returned from his hiatus to join Lotus. Julien had his first win as Kimi's performance engineer and recalls the 2012 win in Abu Dhabi with great reverence. He describes the event as his favorite moment in his F1 career.
Julien Simon-Chautemps truly appreciates Kimi Raikkonen– his silence and his harsh words. It's what makes him the perfect man on the other side of the radio.
ADVERTISEMENT
Article continues below this ad
Sitting on the pit wall, Julien has led Kimi through some tough races and has tried to ensure the Fin can showcase his true potential.
From Lotus to Alfa Romeo, Julien has spent 9 years being pals with Kimi Raikkonen, it's this mutual understanding that has helped Kimi shine in the Alfa Romeo.
Watch this story: From Drunk Gala to Dry Responses: Kimi Raikkonen's Funniest Moments
ADVERTISEMENT
Article continues below this ad