Who Is the Richest of F1 Mogul Bernie Ecclestone's Three Wives?
Published 07/16/2022, 6:00 PM EDT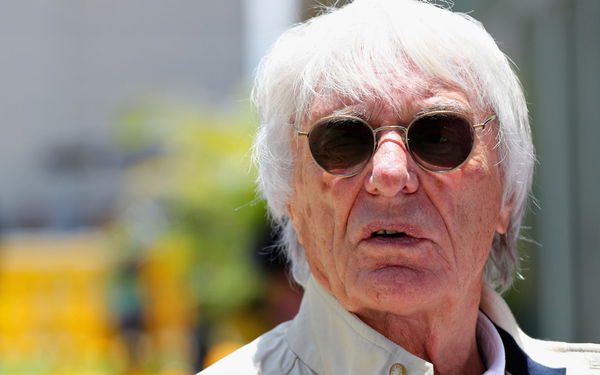 Bernie Ecclestone. It's not hard for an F1 fan to know about him. If one's a die-hard F1 fan, they must know who Mr. Ecclestone is. Whereas if one's just started to watch the sport, somehow or somewhere, they must've heard or read about the British businessman and the former F1 CEO.
ADVERTISEMENT
Article continues below this ad
However, little is known about his personal life. The British business magnate has been married three times and has four children. Interestingly, all three of his wives are wealthy and have a commendable net worth.
ADVERTISEMENT
Article continues below this ad
Ivy Bamford
The first of three wives of Bernie Ecclestone is Ivy Bamford. With Ivy, Ecclestone had a baby named Deborah. Deborah is the first of four children Mr. Ecclestone has. Ecclestone also has 5 grandchildren through Deborah, two granddaughters and three grandsons.
Ivy Bamford Net Worth
According to dreshare.com, Ivy Bamford and her daughter Deborah stayed together after she parted ways with Bernie Ecclestone. Bamford's daughter Deborah, who's now a millionaire, has garnered a decent amount of wealth ever since. The family has garnered a net worth of $400 million.
Slavica Ecclestone
Slavica Ecclestone is the second of the former F1 supremo's three wives. With her, Ecclestone had two children named Tamara and Petra. The couple had been married for 23 years until they parted ways through a divorce in 2009.
Slavica Ecclestone Net Worth
Slavica Ecclestone has a net worth of $1.2 Billion. It is believed that she picked up the massive wealth through her divorce settlement from the 90-year-old boss.
Slavica Ecclestone is the 13th richest woman in Britain purely on the basis of divorce. 😮

— Joseph / йосиф сташко🇺🇦 (@JosephStash) April 29, 2012
Fabiana Flosi
Fabiana Flosi is the third wife of the British national. Bernie Ecclestone announced his engagement with Fabiana Flosi in April 2012. The duo gave birth to a son named Ace Ecclestone in July 2020 and is still in marital union.
ADVERTISEMENT
Article continues below this ad
Fabiana Flosi Net Worth
Before getting married to Ecclestone, Fabiana Flosi was the vice president of Marketing for the Brazilian Grand Prix and was a known face in South American Motorsport. However, as per recent sources, Flosi has a net worth of $20 million.
Bernie Ecclestone himself is worth billions now, $3.3 Billion to be exact, as he used to be one of the most important figures in the sport.
ADVERTISEMENT
Article continues below this ad
Watch This Story: Tiktok Supremo Khaby Lame With Max Verstappen and Khaby Lame
After Liberty Media of the United States bought controlling rights for F1, Ecclestone's long and successful tenure as F1's CEO came to an end.
Edited By: Ranvijay Singh