Why Carlos Sainz Should Replace Sebastian Vettel at Ferrari in 2021
Published 03/09/2020, 1:22 AM EDT
---
---
Sebastian Vettel will be out of contract at the end of 2020. Ferrari is yet to announce a driver for its second seat but we believe Carlos Sainz is the perfect candidate. Sainz has hinted at early contract talks with McLaren but could the Spaniard move to Maranello in a shock move? Here are a few reasons why Ferrari should consider Sainz.
ADVERTISEMENT
Article continues below this ad
Carlos Sainz has the experience and youth
Sainz is at that sweet spot in his career where he's not 'old' but not too young either. At 25, the Spaniard has over 100 races under his belt. Furthermore, Sainz has the right composition of maturity and experience while still being in the prime of his racing career. This opens up the possibility of a long-term deal at Ferrari. Additionally, Sainz's best years in the sport could lie ahead.
ADVERTISEMENT
Article continues below this ad
He's quick to adapt
Between 2017 and 2019, Sainz drove for 3 different teams in F1. This highlights one of the Spaniard's biggest strengths – adaptability. Despite being thrown into different environments, Sainz quickly adapted and delivered with the car.
Ferrari could greatly benefit from Carlos understanding the ins and outs of the team and their expectations. Moreover, Sainz can handle the pressure of driving for the Italian team – which is no easy task.
Carlos Sainz – Mr Consistent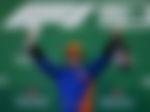 Another one of Sainz's biggest attributes is his consistency. He's made a habit of extracting everything out of the car on race days to get the best possible result. More importantly, Sainz does this at nearly every weekend on the race calendar.
Last year, Sainz managed to finish sixth in the Drivers' Championship despite it being his first season with the team. The Spaniard performed exceedingly well on Sundays and even managed to pick up McLaren's first podium in over 5 years.
Easy going
Mclaren arguably has the best driver pairing in F1 right now.
One of McLaren's biggest strengths is its team stability. This is due to Sainz and Norris sharing a very healthy but competitive relationship. Friction between teammates indirectly affects the entire team leading to poor morale. At the end of the day, F1 is a team sport which requires a functioning, cohesive unit.
ADVERTISEMENT
Article continues below this ad
Carlos Sainz gets along with everyone in the paddock and Ferrari need 2 drivers who get along with each other.
Ferrari's charm
There's driving for an F1 team and then there's driving for Ferrari. The nostalgia and rich history associated with the Maranello outfit is second to none. Given the opportunity, drivers will jump at the first chance to drive for the Italian team. Sainz maybe having a warm and happy relationship with McLaren but he wouldn't turn down Ferrari in a million years.
ADVERTISEMENT
Article continues below this ad
However, all of the aforementioned points are pure speculation. Sainz has repeatedly talked about resigning with the British team and may well do so. F1 is a fragile sport where nothing is set in stone and the possibilities are endless.