Wolff Hopes 'Little Lion' Russell is in a Top F1 Car Next Season Amid Mercedes Rumours
Published 07/16/2021, 3:57 PM EDT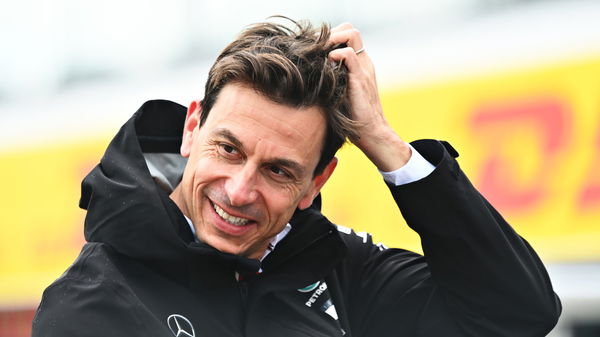 ---
---
As David Coulthard said in a post-race interview, "it was one of the great qualifying sessions in Formula One history." And it truly was. The times flew across the board, and the cars dashed across the track. Regardless, it was George Russell who stole the spotlight. The Brit commanded the attention of everyone watching as he sped through an empty circuit during Q3. He painted a handsome picture; maneuvering the chicanes and bolting through the straights. It was a sight to behold as he finished P8 at his home circuit.
ADVERTISEMENT
Article continues below this ad
Mr. Saturday proved himself yet again as he pushed the Williams to its absolute limit at Silverstone. Mercedes team principal Toto Wolff appreciated the young achiever. "It's a treat for the eyes to watch George. He's in the Top 10 & almost beats the McLaren. That shows his incredible talent. A little lion in the car."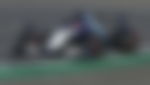 Was the "little lion's" roar loud enough for a seat at the Silver Arrows? When asked if Russell deserves a seat in a top car next season, Wolff replied, "yeah, let's hope so." The interviewer prodded a little more. "No news?" "No." Wolff's silence on the second seat, backed by Russell's brilliant qualifying session, only leaves room for the imagination.
ADVERTISEMENT
Article continues below this ad
A perfect day at Silverstone for Russell
George Russell started his afternoon at the circuit with a frightening end to his free practice session. He was the slowest on the grid, sitting at the bottom at p20. Consequently, the following session seemed daunting.
A cracked mirror on the Williams during the final lap got everyone hoping Russell wouldn't have bad luck going into qualifying. Russell found his luck in the 90,000 fans roaring for him as he entered the track for Q1. Russell pulled through with a stunning P8, making it into Q2 again.
Marking his seventh appearance in Q2, it has become a familiar place for Russell. After placing seventh, Russell broke familiarity and made it into Q3. The celebrations were temporary, as everyone was focused to see where he would place for the Sprint.
What a feeling… your support was something else today!

We did that together. Thank you. 🇬🇧❤️

— George Russell (@GeorgeRussell63) July 16, 2021
ADVERTISEMENT
Article continues below this ad
After a stunning time on the track, Russell will start eighth on Saturday's sprint session; giving him a fighting chance for Sunday.
It was heartwarming to see the happy Brit jump out of his car, with the sound of the grandstands cheering him. George Russell deserved this day at Silverstone, and whether Toto Wolff likes to admit it, everyone knows the true potential he holds.
ADVERTISEMENT
Article continues below this ad
Watch this story: Toto Wolff Swears, Valtteri Bottas Bares: Funniest Moments From Drive to Survive