"You Can Do the Math" – Ricciardo & Vettel Urge F1 Over Calendar Saga
Published 10/07/2021, 12:43 PM EDT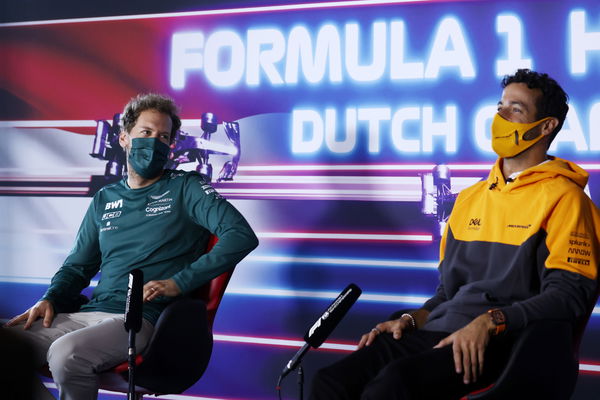 ---
---
The 2021 calendar has a record of 22 races and even includes three very hectic triple-headers. While this year's calendar looked to atone for last season's 17 races, the 2022 season is exhaustive. Now the longest season in F1's history, next season will have 23 reasons as a part of its roster. Sebastian Vettel and Daniel Ricciardo had some very pertinent points to share regarding this extensive schedule.
ADVERTISEMENT
Article continues below this ad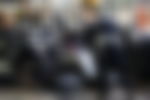 While drivers get the cream of the cake in the F1 schedule, the rest of the crew don't. Looking at the weekend ahead of the Turkish GP this weekend, the drivers had a fortnight to rest and unwind before arriving in Turkey.
ADVERTISEMENT
Article continues below this ad
Conversely, the engineers had arrived at Istanbul much earlier to construct the paddock, set up the car, and do other important tasks that go on behind the curtain.
Vettel contends for the crew
The traveling circus takes an immense toll on everybody involved. Sebastian Vettel explained, "We must not neglect that we are a group of people and human beings who travel the world. You can do the math…That leaves you a very intense season." 23 weekends of racing out of the 52 in a year make for a lot of traveling.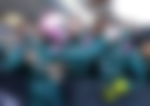 Vettel asks F1 to be more considerate towards the labor force that keeps the sport a well-oiled machine. "Most of them, be they engineers, mechanics or personnel who work in the team, have a family or children to take care of. Therefore, we must be very careful where we want to put our interests."
Additionally, as F1 looks to be a greener sport, traveling is taking two steps back. But more than anything, he wishes that the people involved have the time to go back to their normal lives.
Emotionally draining for Ricciardo
Daniel Ricciardo shared the emotional stresses of busy schedules like these. "We are away from our families for long periods of time, especially with triple headers, so you have to trust your teammates to help you if you are a little depressed, you miss your home, or whatever."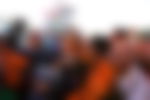 The Australian brings up a good point for the drivers who aren't European. While it gets easier for European drivers to take a short flight home, others often lose the opportunity to go to their families; because of the schedule and Covid restrictions. Ricciardo hoped that the intensity of the pandemic reduces so that it gives teams the time to slow down.
"I really hope that next year the world continues to open up and that we can interact more with the team. It's not just on the track, we also want to do some events, some dinners, I think having a bit of social life outside the paddock for a race weekend helps separate the weekend as well."
ADVERTISEMENT
Article continues below this ad
 

View this post on Instagram

 
Concluding, Ricciardo added, "I think it is an important moment to disconnect and relieve some tension of the trip, nostalgia or whatever."
ADVERTISEMENT
Article continues below this ad
Now, with the increasing conversations about the burdensome routine, the people involved have to adapt to F1 will have to make some changes in their schedule. Two hours of action at the cost of thousands of employees is compensation that needs to be reviewed.
Watch this story: F1 Drivers Fighting on Track.