"You Took Away Everything" – Cheeky Accusations Fly Between Ricciardo & Norris Over Monza F1 Result
Published 10/03/2021, 6:47 AM EDT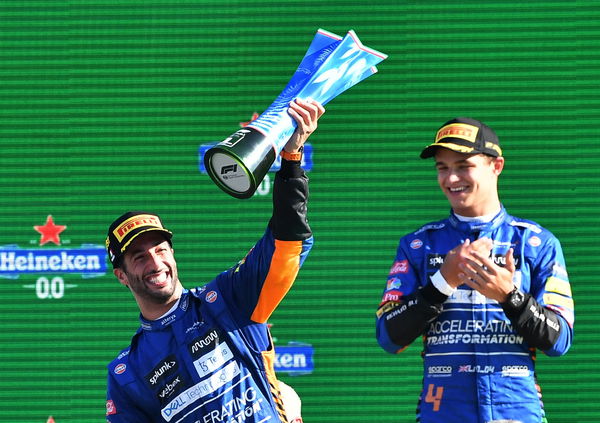 ---
---
Lando Norris has been with McLaren for a long time. Having joined the team as a junior driver in 2017, Norris has seen the team grow into the position it is in today. Missing out on the splendid win at Monza was definitely tough for Lando, but he was still happy for his team.
ADVERTISEMENT
Article continues below this ad
This didn't absolve him from making jokes about it. While interviewing teammate Daniel Ricciardo, who spearheaded the 1-2 victory, Norris dissed the driver for not only taking his win but also his spotlight. As Norris finally broke his P3 curse and finished P2, Norris blamed Daniel for no one having noticed it.
ADVERTISEMENT
Article continues below this ad
"It was my best result. It's a shame you won. You took away everything." Further, the driver wrapped up his emotions with: "You kind of ruined it."
Nonetheless, Lando Norris was happy to have been a part of the moment. "It was still special because it was a 1-2. Like, the second place wasn't special, but the first-second was special.
"The main thing for me is seeing where the team were when I joined them and seeing how happy the team are and the contrast of 2017 to now, was pretty amazing."
Lando Norris ready for the next challenge
Norris was close to further bettering the P2 result with a maiden victory at Sochi. However, as the rains washed out the driver's hopes for a win, the next opportunity will be coming soon.
It was a disappointing Sunday for Norris as the win was within his reach; he lost his lead with three laps to go. Heartbroken at his mistake, Norris was holding back tears at his post-race interviews. However, now Norris looks at the race as a learning experience.
A man of his team, the Brit revealed he was back on the grind as soon as he could. "I had Monday off to get over it myself and then was already in McLaren on Tuesday and spent a lot of time with my engineers, our whole group, going through everything with a bit more clarity the decisions we made. I'm better now and ready for the next challenge."
ADVERTISEMENT
Article continues below this ad
After his loss, the F1 community praised the young driver. Having defended Hamilton and leading a race is no easy feat. It only goes to show that everyone believes that Norris' time on the victor's step on the rostrum is near.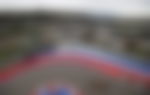 "It's not just something people say, it definitely is true [that tough experiences make you stronger]. You do learn probably more from the hard moments. You always learn things. Even if you win a race, you can learn things."
ADVERTISEMENT
Article continues below this ad
As Lando takes his hopes and determination as a driving force to the upcoming seven rounds of the calendar, the season promises another shot at victory for the McLaren driver.
Watch this story: Lewis Hamilton's Biggest F1 Crashes