"You've Got to Put the Team First" – Lewis Hamilton on the Mercedes Position Swap
Published 05/10/2021, 7:37 AM EDT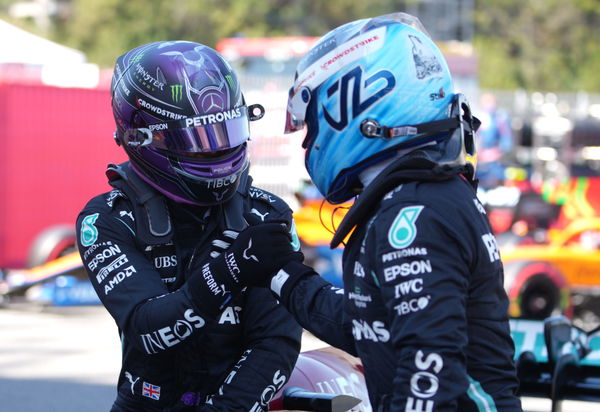 ---
---
This past weekend, Lewis Hamilton seized victory at the Spanish Grand Prix at the Circuit de Catalunya. He finished ahead of title rival, Max Verstappen and Mercedes teammate, Valtteri Bottas. Sometime during the race, Hamilton ended up behind the Finn and began to hunt him down.
ADVERTISEMENT
Article continues below this ad
Soon afterwards, the team radioed Bottas and asked him to not hold up his teammate. Despite the team's order, he made life a little difficult for the seven-time world champion, before ultimately relenting. Call it pettiness, but Bottas was well within his rights to not make it easy for Lewis Hamilton.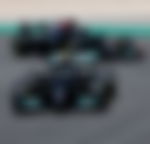 This isn't even the first time Mercedes has imposed team orders in favor of Hamilton. One only has to remember the 2018 Russian Grand Prix when the team told Bottas to move over. The Finn was well on course for victory, and Mercedes' call for him to make way for Lewis caused a massive outcry in the F1 community.
ADVERTISEMENT
Article continues below this ad
What else did Lewis Hamilton say?
In the post-race press conference, Hamilton revealed that he was sure he was going to catch Bottas sooner than later.
He said, "When we went into turn ten, we were on massively different strategies so I was going to get him at some stage because I had much better tyres. And we were going into turn ten and I thought there was a gap there and I wasn't quite sure and then there was a gap and Valtteri was completely fair, I wouldn't lose too much time but this is how we win as a team.
"We sometimes have to… sometimes we're in that position where you just. You've got to put the team first and getting a second and a third is good but getting a first is obviously max points and that's key."
ADVERTISEMENT
Article continues below this ad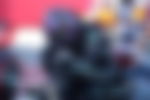 The British driver confessed that he had no idea that the Mercedes team had relayed such a message. As a result, he was still under the impression that the two of them were racing each other.
Obviously, Hamilton was more than happy with that thought process, especially considering that the 2021 season is still in its early stages. So, the Knight only hoped to get close and try to overtake his Finnish teammate. Eventually, Hamilton won the race and extended his championship advantage.
ADVERTISEMENT
Article continues below this ad
Now, Hamilton and the Mercedes team are looking forward to the Monaco Grand Prix. Largely regarded as the crown jewel in Formula One, the iconic street circuit has witnessed quite a few Hamilton wins.