"F1 in Super Bowl Terms" – Fans Come Up With Innovative Explanations Using Hamilton & Verstappen
Published 02/15/2022, 4:31 AM EST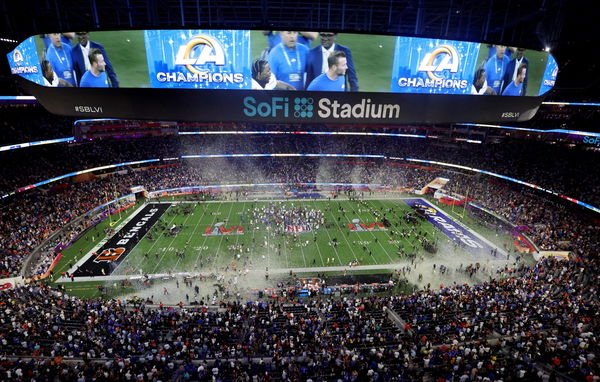 Los Angeles Rams recently defeated Cincinnati Rams in a thriller at the 2021 Super Bowl to secure only their second Vince Lombardi Trophy. And of course, like any other year, the Super Bowl 56 was an event of celebration comprising hilarious ad commercials and half-time shows filled with nothing but nostalgia.
ADVERTISEMENT
Article continues below this ad
Many including Dr. Dre, Snoop Dogg, Eminem, Kendrick Lamar, and 50 Cent, took the center stage following the half-time whistle at the SoFi Stadium in Inglewood, California. But, quite interestingly, they weren't the hottest topic of the night and neither were the Rams. Instead, it was the officiating crew that took ended up in the spotlight, and not for good reasons; They were hardly at their best on the pitch.
The facemask incident reminds many of F1
ADVERTISEMENT
Article continues below this ad
The biggest incident of all happened when Tee Higgins grabbed Jalen Ramsey's facemask on his 75-yard touchdown at the start of the second half. The incident was quite blatant but neither the ref on the sidelines nor the one on the pitch managed to call foul play.
What's more, referee Ronald Torbert even defended the officials, reckoning there was no contact between Ramsey and Higgins. Well, this somehow reminded many of Formula One. The 2021 season finale had a similar story pan out, with Michael Masi failing to handle the safety car issue in a reasonable fashion.
And well, in the end, despite Lewis Hamilton's impeccable dominance over the Abu Dhabi GP, Max Verstappen went on to secure not only the race win but also his first-ever world championship victory. Canadian YouTuber, Noel Miller, found the similarities in the 2021 Abu Dhabi GP and Super Bowl 56 and even reacted to the incident on Twitter late on Sunday.
Watch Story: When F1 Drivers Had a Blast on Top Gear Featuring Hamilton, Vettel & Ricciardo
Twitter explains F1 in Super Bowl terms
Benjamin Daly of McLaren Shadow E-Sports team took to Twitter asking the fans to elaborate F1 in terms of the Super Bowl. Well, we did manage to find some interesting replies, most of which had the words Lewis Hamilton and Max Verstappen in it.
Here are some of the best tweets!
It's like the days of watching F1 on ITV except even more advert breaks

— Tom Bellingham (@TommyWTF1) February 13, 2022
Basically its Hamilton fighting Giovanazzi for the world title while beeing equal on points

— Basti (@basteires) February 13, 2022
You can't because the sports are very different. In @F1 racing directors can manipulate races and in the @NFL refs don't have that luxury. Most other sports as well, but who is counting. 🤷🏽‍♂️

— Nate Rivera (@naterivera14) February 14, 2022
They're playing 1-on-1. Lewis has a 7 point lead and the ball on the 1 yard line. Masi says, 'NAAAH mate'. Lewis gets a 98-yard penalty, has to take his shoes off, Max gets Cincinnati's offensive line.

— Your flawed friend, Noel. (@noelthewalrus) February 14, 2022
Pass Interference, number 44, Lewis Hamilton.

it looks like it's 1st and goal, at the one yard line… Max Verstappen throws the ball in the last second and wins the Super Bowl for Red Bull!! pic.twitter.com/21XuOBWnRn

— mustn't hurry (@Andrzzn) February 13, 2022
Race starts, there's an advertisement break, two minutes of coverage, another advertisement break, someone sings, Tom Brady then gets a ring to wear.

— . (@dwwwdf) February 13, 2022
The goal is the drop the near the end, sort of like Lewis at Baku

— ~{🧡Jobathan QRTy💜}~ (@Outofalltheuser) February 13, 2022
Race suspended due to bad weather. And Daniel Riccardo dancing on the pitlane.

— Jasmin Adili (@jasminAdili) February 14, 2022
Tom Brady wins everything all the time and gets repetitive. He's about to win his 8th F1 Super Bowl and the Vince McMahon sucker punches him and gives him the Pedigree and the opposing team win with the final play of the game #WeStandWithLewis

— The Goat Returns (@Hez84) February 14, 2022
ADVERTISEMENT
Article continues below this ad
A team paid the refs to penalize the opposing team in the final minute of the game handing the ball over to team that paid them. then they removed posts on the goal and moved it up super close the guy kicking the ball for the win.

— Sasspurrella (@Sasspurrella) February 14, 2022
Its Bengals 28-7 Rams with a minute left on the clock. Ref says last touch down wins the super bowl and tells the players it's 1st and inches with the rams having the ball.

— neuron dB (@redham43) February 14, 2022
ADVERTISEMENT
Article continues below this ad