Mercedes F1 Boss Toto Wolff Gets Major Shoutout from NFL Headliner Tom Brady
Published 05/19/2022, 11:09 AM EDT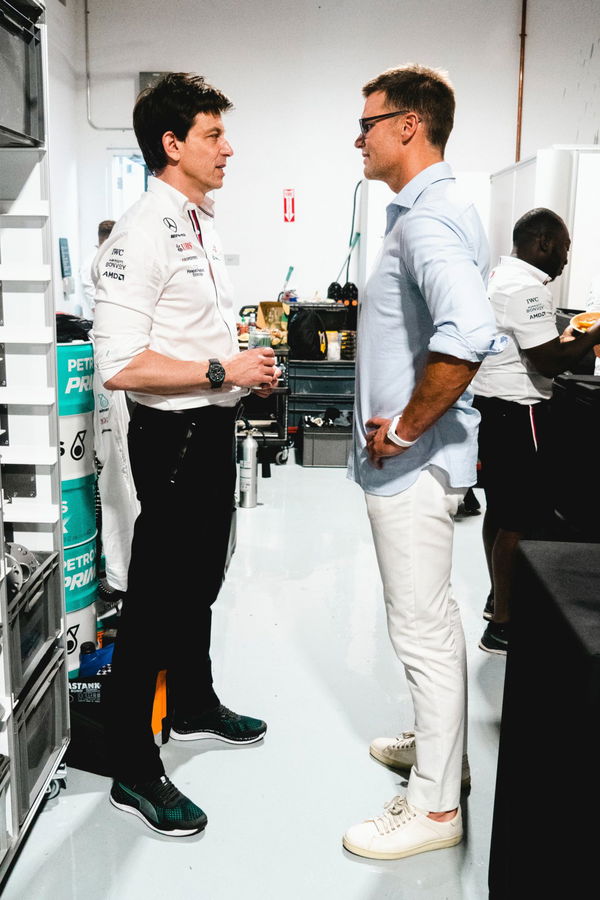 Toto Wolff is a controversial figure regarding how F1 fans perceive him. But no one can really doubt the leadership skills of the Mercedes team principal in the motor sport world. The way he has guided the German team to 8 consecutive constructors' World Championships is legendary. It is not just people in F1 who are inspired and look up to the Austrian, but also another sporting legend. NFL GOAT Tom Brady took to his Instagram stories to share a picture with the Mercedes team boss.
ADVERTISEMENT
Article continues below this ad
The American sporting icon mentioned he was in awe of Wolff and wrote a caption to express his true feelings. " Always trying to learn from the best. Always learning, always curious," said Brady in his picture with Toto.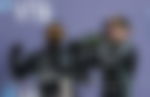 ADVERTISEMENT
Article continues below this ad
Mercedes AMG F1 team also took to social media to share the same picture on their platform. It sent f1 fans into a frenzy to see both icons talking to each other about something. " The Boss. Brady." wrote Mercedes in the caption.
F1 Twitter reacts to an enthralling picture of Tom Brady with Mercedes team boss
Fans on Twitter give some interesting reactions to the picture of Brady and Wolff. Whilst everyone was curious to as what the conversation was between them, they gave out some of their own opinions.
The GOAT and some American fan

— CAN'T WALK AWAY OUT NOW! (@ItsDecoMasta) May 18, 2022
🗨 "If we don't get a podium this weekend our season is over".

— Archie (@KayakSeaFishing) May 18, 2022
Susie Wolff's husband and Gisele Bundchen's husband

— Lilo 🍂 (@lovesvaldezz) May 18, 2022
Tom please explain to them how to reduce porpoising so they can lower the ride height and prevent bouncing and show them that cam trick so they can get more power and help them become sleeker so they can go faster on the straights. Thanks Tom

— shanestanley (@Shanestanley09) May 18, 2022
Admin you've got a sexy boss, you should drop more boss content…

— raya 🇵🇸 (@Totonator555) May 18, 2022
Brady was in demand throughout the Miami Grand Prix weekend and was seen hanging out with the likes of David Beckham and Lewis Hamilton. He even played some golf with the 7-time F1 world champion in a promotional event.
ADVERTISEMENT
Article continues below this ad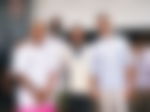 While playing golf with the NFL legend, Hamilton reflected on his own F1 career and spoke about racing in his 40s. "I still feel fresh and still feel young, to be honest, even though I'm around all these youngsters here. So, I don't think that's going to be the deciding factor whether I continue or not. I plan to be here," said Lewis.
WATCH THIS STORY: From Cristiano Ronaldo to Shaquille O'Neal: When Other Athletes Mingled With F1 Stars
ADVERTISEMENT
Article continues below this ad
The Tampa Bay Buccaneers quarterback is a great example of playing at the highest level, even in his twilight years. He just shows that if you continue to work hard in your discipline, you can outlast most opponents.
This could serve as an inspiration for Hamilton who, too, is approaching the final years of his racing career, but shares the same amount of love and passion as Brady. So there is no reason why the Mercedes driver cannot take inspiration from the quarterback and prolong his career.