Valtteri Bottas Cheers on Olympian Girlfriend Tiffany Cromwell at Giro D'Italia in Fresh Break from F1
Published 07/07/2021, 2:55 PM EDT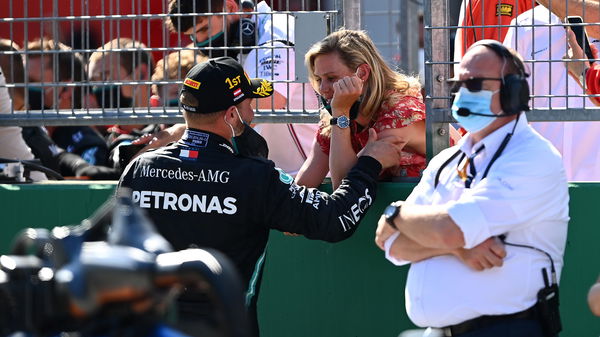 ---
---
Valtteri Bottas was spotted at Giro D'Italia supporting his girlfriend, Tiffany Cromwell. The Mercedes driver shared a story on his Instagram, showing her support for Tiffany. He also gave an interview trackside, discussing his love for cycling and his relationship with his other half.
ADVERTISEMENT
Article continues below this ad
The cyclist was celebrating her 33rd birthday at the event, and Bottas was "the best birthday present of the day" according to her Instagram story.
ADVERTISEMENT
Article continues below this ad
 Who is Tiffany Cromwell?
Cromwell is an Australian road cyclist who will represent her country in the upcoming Olympics. Being a world-class athlete at her level comes with its own areas of stress. However, she attributes her success to her 'settled' personal life. "I'm more settled in my personal life. I've been in a relationship now for a year and a half, and things like that… He's also a sportsperson and at the top of his game, so having that kind of mutual support for each other is important."
She explains the positive impact Bottas has had on her life. Tiffany spent the holidays with him in Finland and explored its terrain while training. She adds, "He's been a massive influence in keeping me calm, not over-stressing, and making sure I'm doing little things right."
Valtteri Bottas' support
The couple seems to have a mutual sense of support for each other. Bottas shares the same sense of security as she does. Cromwell is often seen at the circuits cheering on for the Fin. The only time one sees Bottas with a smile on his face is when he stands on the podium with champagne, and when he's with Cromwell. In what can be a cut-throat sport, it's nice to see Bottas sourcing his energy from someone as hardworking as him.
ADVERTISEMENT
Article continues below this ad
With Mercedes and the stresses of his future with them on the line, Bottas has a stressful season ahead. It's reassuring to know that the Mercedes star has someone to help take his mind off the difficulties of the sport and focus on what's positive.
ADVERTISEMENT
Article continues below this ad
Watch this story: Wives & Girlfriends of Current F1 Superstars