F1 or UFC? 5 Instances of F1 Drivers Fighting After Getting Involved in a Crash
Published 01/09/2020, 2:49 PM EST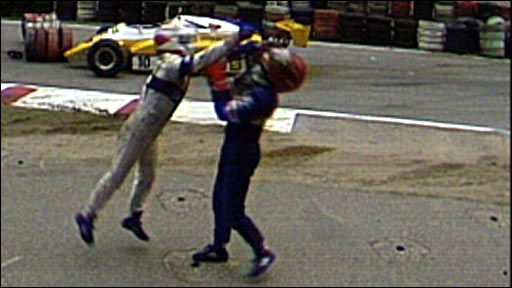 ---
---
Whenever there is some sort of incident involving 2 or more sportspersons, there are 2 ways of dealing with it. You can either brush it off as no hard feelings or you could see red and start a brawl. Personally, I'd suggest the former as the latter will likely lose you sponsors, fans and respect. But some drivers are beyond forgiving and all hell breaks loose. While fights are often seen in racing series like NASCAR, it doesn't mean that we don't get F1 brawls too. Here we list of some of the biggest and ugliest F1 brawls.
ADVERTISEMENT
Article continues below this ad
F1 Brawls
Eliseo Salazar vs Nelson Piquet
ADVERTISEMENT
Article continues below this ad
This incident occurred during the 1982 German Grand Prix. The Brazilian came up on the Chilean to put him a lap down. Going into the chicane, Piquet dove down the inside of Salazar. Eliseo suddenly turned in and Piquet collided with him. The fuming Brazilian clambered out of his car and stormed up to the Chilean. He felt that Salazar robbed him of a chance of victory. Piquet gave him an almighty shove before peppering his helmet with a series of punches. Fortunately, the trackside marshals broke them up before things could get any worse. The only damage done was to a couple of bruised egos.
Michael Schumacher vs David Coulthard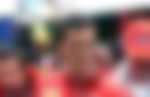 To say that the 1998 Belgian GP was exciting, would be an understatement. This race had everything, huge pileups, controversy, team orders, emptied wallets, heavy rain, Spa Francorchamps and a good old punch up. At the race start everyone survived La Source but no one expected what happened next. Amidst the mist and spray, David Coulthard's McLaren came skidding out of the wall of water and into a concrete one. This started a domino effect and soon, half the field were laid to waste in what they call in NASCAR "The Big One".
The restart was less chaotic but still claimed a few victims. David Coulthard was involved with a collision with Alexander Wurz but only the latter was out. With Schumacher in the lead and coming up to lap the Scot, a nervous Jean Todt paid the McLaren garage a visit. He beseeched them to tell DC to let Schumacher through. Coulthard did not let the Ferrari by immediately. The irate Ferrari driver was already losing patience with the Scot. As they reached Pouhon, Coulthard tried to let Schumacher through. He lifted off to reduce his speed, unfortunately he had not moved off the racing line. With poor visibility a startled Schumacher slammed straight into the back of the McLaren. The impact tore off the right-front wheel of the Ferrari and the rear wing of the McLaren.
The furious German then stomped towards the McLaren garage to confront his Scottish rival. Michael accused Coulthard of "trying to kill him". The rage was such that Schumacher had to be physically restrained by the Ferrari team manager Stefano Domenicali. It was one of the biggest and high-profile F1 brawls at that time.
Ayrton Senna vs Eddie Irvine
At the 1993 Japanese Grand Prix, Senna had taken the lead and was battling long-time rival Alain Prost for the win. As the race progressed, he had put nearly every driver a lap down. But one driver who wasn't going down without a fight was rookie Eddie Irvine. The Englishman un-lapped himself twice and was close to making an impressive debut in 6th. But the un-lapping meant that Senna lost a chunk of time in the process. Although he won the race comfortably, the Brazilian was furious. In the post-race, he stormed up to Irvine and Senna's fist found the Englishman. The 3-time World Champion was soon on the receiving end of a suspended 2-race ban. This was just one of the few F1 brawls featuring the Brazilian legend throughout his career.
Nigel Mansell vs Ayrton Senna
It was Senna yet again but this time the opponent was Nigel Mansell and the Brazilian was the victim this time. Mansell confronted Senna after the pair crashed on lap one of the 1987 Belgian Grand Prix. The 1992 World Champion was so incensed that he tracked down the Brazilian to give him a piece of his mind. The 'Lion' certainly roared as he grabbed Senna by his race suit and pinned him against the wall. Later on when he had calmed down a little, he admitted to seeing "red mist". In his words, he was so angry that he was "like a great big bull in a ring". A visibly shaken Senna said "When a man holds you round the throat, I do not think that he has come to apologise." It was probably one of the more violent F1 brawls.
Adrian Sutil vs Jarno Trulli
Force India's Adrian Sutil and Toyota's Jarno Trulli collided during the first lap of the Brazilian Grand Prix. Both drivers were out and confronted each other on the circuit. The disagreement escalated to a war of words at the press conference in Abu Dhabi in the following race. Trulli attempted to drive around the outside of Sutil's Force India as they battled for 4th place in Brazil. Sutil was pitched into a high-speed spin and Fernando Alonso's Renault was an innocent victim. To tell you the truth, the scene was rather comical. The accident was later declared a "racing incident" and both drivers were blameless.
However, a punishment was handed out as Trulli was fined $6,000 (£3,600) for disobeying an official. In Abu Dhabi, the subject of the Brazil clash cropped up again. In hindsight, it was probably better off left alone. The row erupted again between the Italian and the German. Meanwhile, Alonso and Kimi Raikkonen in front, were struggling to keep a straight face.
The transcript is as follows, Trulli: "Obviously it was very disappointing to end the race like that, especially on the first lap. I had every reason to be extremely furious. I've got all the evidence to show I was there and was next to him, and tomorrow we are going to discuss it [at an official FIA drivers' briefing]."
Sutil: "There's nothing to discuss, it was quite an obvious incident. In the end it was very disappointing for me, even more because I was the one who was driving, and he lost control of his car and crashed into my back. It's not my problem. It's his problem. I don't know why he's freaking out like that to be honest."
Trulli: "I don't know if you're blind, but I can clearly show you my front wing is next to your front wing."
ADVERTISEMENT
Article continues below this ad
This was a case of a verbal brawl rather than the other physical F1 brawls earlier
Max Verstappen vs Esteban Ocon
ADVERTISEMENT
Article continues below this ad
This was among the more recent of the brawls, having occurred at the 2018 Brazilian Grand Prix. Max Verstappen, driving in his Red Bull F1 was leading comfortably from second place Lewis Hamilton. Esteban Ocon, already fighting for his career at that point, was already a couple of laps down. Considering the margin Verstappen had over the second running driver, he was naturally cruising along, preserving fuel and tires. However, Ocon was on a charge. In this charge, he went on to unlap himself. And just when he was doing this, Max, running first, closed in on him, putting the Dutchman to a spin. This later lead to Verstappen being overtaken by Hamilton. He lost the race because of Ocon's mistake and was naturally furious at him.
Post race, he confronted the Frenchman when everyone was getting their weights checked in and even pushed him away in anger. Rage is what was driving Verstappen that day and certainly as an F1 fan it wasn't the most comfortable thing to watch.