F1 Throwback: Driver Breaks Down in Tears After Missing First Points
Published 01/15/2020, 8:54 AM EST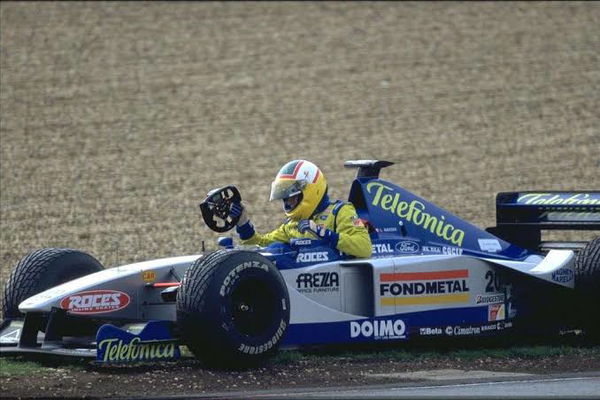 Former F1 driver Luca Badoer will possibly go down in infamy as one of the worst Ferrari F1 drivers. The Italian made his debut in 1993 for the Lola team. However, in his five seasons in Formula One, he has never scored a single point, with 7th being his highest position.
ADVERTISEMENT
Article continues below this ad
His F1 racing seasons consisted of the 1993, 1995, 1996, 1999 and 2009 seasons. However, in the 1999 European Grand Prix, Badoer came agonisingly close to a maiden point. The Italian was running in 4th and on course for his maiden points when his engine gave up the ghost.
What made this even more gutting, was the fact that he had started in 19th on the grid. What gave him an even bigger boost of confidence, was the fact that it was a race of attrition.
ADVERTISEMENT
Article continues below this ad
ADVERTISEMENT
Article continues below this ad
That race saw only 10 of the 22 cars make it across the finish line at the Nurburgring. In those days, only the top 6 cars were awarded points and Badoer was in a prime position. So when his car ground to a smoky halt, one could not blame him for crying.
However for the Minardi F1 team, it was a bitter-sweet moment as teammate Marc Gene was running in 7th when Badoer's engine went 'Pop!'. So, by the rule of progression, Gene was promoted to 6th, which would bag him one point.
Even the F1 podium at the Nurburgring was a strange one, as Johnny Herbert won from Jarno Trulli and Rubens Barrichello. The remaining point-scorers were Ralf Schumacher, Mika Hakkinen and Gene.
ADVERTISEMENT
Article continues below this ad
The survivors of the European GP were Eddie Irvine, Ricardo Zonta, Olivier Panis and Jacques Villeneuve. It was also worth noting the Michael Schumacher was out of action due to injury. So, Finnish driver Mika Salo was called in to fill in for the German driver.
Most of the retirees at the 1999 European F1 Grand Prix suffered mechanical issues, while there were a couple of crashes and spins.